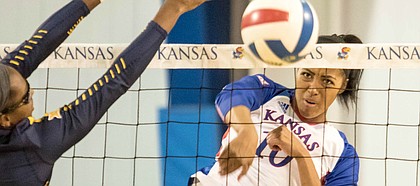 Taylor Alexander needed KU just like KU needed Taylor Alexander.
As the Jayhawks took the floor in the first round of the 2016 NCAA tournament, they had every reason to want to make a statement. Despite winning their first Big 12 title in program history, they were seeded fifth overall. Texas, who the Jayhawks defeated once in the regular season and snatched the title from, was seeded fourth.
Instead, KU looked lackluster. The Jayhawks swept Samford but looked so unconvincing in doing so the opposing coach blasted them with a 100-word postgame rant about how they were "going to get exposed" because of "pretty glaring" issues.
Behind the scenes, those words didn't sit well with the Jayhawks, but they carried some truth. Although a school with an enrollment of 5,471 couldn't capitalize on KU's flaws, a Creighton team playing its best volleyball at the right time did. Things weren't about to get any easier.
In the postgame press conference, Tayler Soucie, a dynamic middle blocker and part of the winningest four-year senior class in program history, forced a pained smile in an unsuccessful attempt to keep from crying. A KU team with issues in the middle was about to get even thinner.
"Every team has got their warts if you look close enough," said Kansas volleyball coach Ray Bechard.
Fortunately for the Jayhawks, the player they needed was out there. They just had to find her.
Alexander grew up Breaux Bridge, Louisiana, a town most well-known for a crawfish festival. Sometime after building up the courage to try the festival's "Ring of Fire" ride for the first time, she fixed on volleyball as her calling and chose to attend Ole Miss. Her arrival on campus, however, wasn't quite was she expected.
Alexander joined the team early, finishing high school a semester ahead of schedule and enrolling at the start of 2014. The preceding December, Ole Miss chose to part ways with coach Joe Getzin, as well as assistants Shannon Wells and Sean Burdette, who were crucial in bringing Alexander aboard.
After two years of being inconsistently featured and a third year in which she was at least able to become a full-time starter, Alexander graduated and decided to transfer. When she contacted schools, she noticed a common theme.
The KU coaches got wind of Alexander's availability from "another SEC coach." It wasn't a malicious effort on the part of a competitor, but rather the coaches she originally committed to trying to help get her name out there.
"They looked out for me," Alexander said.
They weren't the only ones.
Melanie Crow, Alexander's best friend, had followed a fairly similar path, originally committing to Getzin at Ole Miss and then transferring to Missouri when Alexander was a sophomore.
Crow and Alexander share a special bond, but her biggest role during that time was as a prognosis. Alexander observed Crow's complete change in demeanor upon transferring, remarking that "talking to her was just happiness."
When Alexander decided she wanted to transfer, her first call was to Crow. Later, when she actually signed her transfer papers, that contact continued.
Alexander sent Crow a text announcing, "Dude, it's official."
The response wasn't one of celebration. Crow called her immediately and laughed.
"Only Taylor Alexander would sign her Kansas papers decked out in Ole Miss gear," Crow said. "I think she's still a Nike fan at heart."
Friday will mark the first time the two have shared the court since, only this time it will be as rivals.
Crow, a 2016 AVCA Third Team All-American, has been on an uptick as of late, posting a combined 29 kills in her last two matches. Alexander, who dealt with a left ankle injury for much of the year, has started the last four matches, though her last double-digit kill game came on September 24.
Whether it's Alexander complementing Zoe Hill — a second-team All-Big 12 selection — or any combination of senior Kayla Cheadle and sophomore Mmachi Nwoke, KU's production in the middle may prove important in thwarting Missouri middle blockers Kira Lawson (281 kills, 272 digs) and Alyssa Munlyn (255 kills, 182 blocks).
Regardless, the Alexander-Crow matchup may not be the marquee event of the matchup, but it'll certainly be meaningful for the two.
"It was always kind of like a joke that she could come to Mizzou and we could start off again together," Crow said. "We text probably once a week to check in, but we mostly FaceTime whenever we need to talk.
"We know each other extremely well and we're very close. So if anything happens, we turn to each other through a lot of that."
Other Missouri ties
Alexander isn't the only player with a tie to Missouri.
Kayla Cheadle, twin sister of KU basketball player Chayla, moved to Columbia in the fourth grade. The two were offered by several schools, including Missouri, but opted to stay together even as they chose different sports.
"I felt like I wanted to get away from home," said Kayla. "My sister and I just said, 'Let's stay together and go to KU.' We have a lot of family in Kansas City."
Kayla Cheadle hasn't played an overwhelming on-court role this season. She tabbed a season-high nine kills on senior day, though she appeared in just two sets in the two preceding matches.
Still, that's not why she's meant so much to the team.
Similar to her sister Chayla — "Chay just really understands how we want to play," says women's basketball coach Brandon Schneider — Kayla has brought plenty to the volleyball team off the court.
"Every team needs a voice of reason. For us, that was Kayla Cheadle," Bechard said at the team's senior day before turning to the senior. "You always contribute more than you consume."
Barry recalls first dig
Addison Barry has had plenty of moments on the court, but it's one behind the scenes that stuck in her head as her final NCAA tournament approaches.
Barry, who came to KU at the same time as program stalwart Kelsie Payne, recalled the first time she had to defend a kill from the all-time KU kills leader in a practice.
"(Seeing) her full arm swing, I was like, 'Oh no. I'm going to run off the court,' " Barry joked.
Barry said the coaches eventually came over to her and urged her that it would only hurt for a "little bit" to block a Payne spike at full extension.
That being said, the senior probably won't be volunteering to jump in front of any of those kills anytime soon.
"I did start to get use to it," Barry said. "There's still some shocking moments where I'm like, 'Dang' "