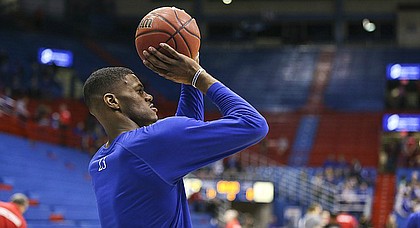 The no-news in the Billy Preston saga took on a slightly different sound on Thursday afternoon.
During his regularly scheduled news conference, KU coach Bill Self was asked if there was "any movement" in the freshman forward's status. After initially responding with the routine answer of "no," Self took time to clarify the answer.
"I haven't talked to anybody today," Self said. "Visited about it yesterday. When you say there's no movement, that would probably be a false thing to say. There's no movement on a conclusion. There's certainly movement on trying to do everything to get a quicker conclusion."
As for whether he remained optimistic that the 6-foot-10, 240-pound matchup nightmare for opponents could still return to the Kansas lineup at some point this season, Self said the program remained hopeful but added, "I, personally, don't see it happening in the next two days."
Second-ranked Kansas (6-0) plays Syracuse (6-0) in Miami at 4:30 p.m. Saturday.
Preston, the McDonald's All-American who has yet to play a regular season game with the Jayhawks, sat out the season opener after missing curfew and class and has been held out of the past five games while KU officials seek to sort out a compliance issue involving a vehicle he was driving during a single-car, no-injury accident on Nov. 11.
Although Preston's absence has left the Jayhawks devoid of depth, Self said the uncertainty surrounding Preston's status has started to wear on his young player.
"He's taking it very well," Self said of Preston. "But there is something bothering him. I mean, there's no doubt about that. He's not excited this is happening by any stretch, nor are we. But we know we've got to deal with it. He's handled it very maturely. He's been a good teammate. I think there have been some positives from that regard. Sometimes, you know, people can say that they're adjusting, have a great attitude, which he does, but that still doesn't mean it doesn't hurt. Certainly that's the case with him."