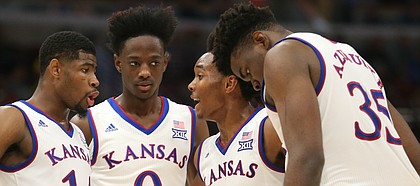 No. 4 Kansas Jayhawks (2-0) vs. South Dakota State Jackrabbits (3-0)
Time: 7 p.m. | Location: Allen Fieldhouse, Lawrence, Kansas
TV: Jayhawk TV/ESPN3/KMCI-TV | Radio: IMG Jayhawk Radio Network
Log on to KUsports.com for our live game blog coverage and follow the KUsports.com staff on Twitter: @KUSports @mctait @TomKeeganLJW @bentonasmith @nightengalejr @chasenscott & @nickkrug
Keys for Kansas
1. Better shot selection
It wasn't that the Jayhawks missed so many shots during Tuesday's victory against Kentucky that bothered their head coach. It was the fact that so many of their shots were the result of bad decision-making.
From quick shots and off-balanced jumpers to continually attacking the rim and getting blocked, the Jayhawks shot just 35 percent against the Wildcats, yet somehow won.
"The big thing coach talks about is you can learn a lot about a team when you miss a lot of shots and still find a way to win," sophomore forward Mitch Lightfoot said. "Yeah, we missed some shots, but a (win's) a (win)."
2. More touches for Azubuike
Despite playing a career-high 34 minutes in the victory over Kentucky, 7-foot sophomore Udoka Azubuike attempted just five shots in the game, making all five during a 13-point night.
Azubuike was the only Jayhawk who shot above 50 percent against the Wildcats, and Self said after the game that his team needed to emphasize getting Azubuike more shots.
That should be easier against the Jackrabbits, who tend to be more perimeter-oriented and have just two players who stand 6-foot-9 and no one bigger. Even those two — junior Mike Daum and senior Ian Theisen — will be giving up at least 30 pounds to the KU big man.
For Azubuike, the easiest way to more shots is with proper positioning. And he said after the Kentucky win that he thought he could do a better job of being more vocal and demanding the ball. If he does tonight, he could enjoy one of the biggest scoring nights of his young career.
3. Slow down Daum
Speaking of Daum, Self marveled at the 6-foot-9, 250-pound forward's skills on Thursday, calling him "a poor man's (Larry) Bird."
"They'll have the best player, arguably, on the court most nights that they play," Self said. "If he stays all four years, he'll undoubtedly go down as one of the 10 leading scorers in the history of the sport in NCAA."
Daum enters tonight's game averaging 21.3 points and 10.7 rebounds per game, while playing just 28 minutes per outing.
According to Self, it's Daum's all-around skills and versatility that make him such a dynamic offensive player.
"He can really, really shoot," Self said. "He's got all the footwork, all the shot fakes, all that in his game. He can post, obviously, and he's an out-and-in type of player. He definitely creates some issues from a matchup standpoint."
Mega matchup
South Dakota State's depth vs. KU's short bench
With freshman forward Billy Preston's status still up in the air, the Jayhawks spent the week preparing to have just seven scholarship players in their rotation again. That means two subs off the bench — Lightfoot and freshman guard Marcus Garrett — and walk-ons Clay Young and Chris Teahan behind them.
While the Jayhawks found a way to make that work against Kentucky, it was Kentucky's youth and inexperience that helped KU the most. The team won't have such a fortunate setup against South Dakota State.
"I think it's a hard game," Self said. "They're good. They're good. They're a team like when Kentucky played Vermont (last week). That was a good win for Kentucky. South Dakota State didn't win as many games as Vermont did last year (29), but they've got the best player (in Daum)."
The Jackrabbits, who were picked as the preseason favorite in the Summit League, enter this one owning tremendous depth, with nine different players averaging 10 or more minutes per game.
That could allow them to be the more aggressive team on both ends of the floor, forcing Kansas to utilize its short bench more often.
Jayhawk Pulse
Nobody in crimson and blue is apologizing for KU's victory over Kentucky on Tuesday night, even if it was described as an ugly victory.
The way Bill Self and company see it, a win over John Calipari and the Wildcats is worth celebrating whenever it comes and however it looks, and the fact that this most recent one — KU's third in a row over Kentucky — came on a stage as big and bright as the Champions Classic, merely adds to what Kansas gained from the victory.
"It helps us a lot," Azubuike said of the Kentucky victory. "It gives us confidence moving forward, but we've still got a lot to work on. We don't think we have arrived."
With four consecutive home games on the schedule during the next two weeks, the Jayhawks figure to benefit from having that much time in their friendly home environment to establish clear roles, take steps forward and find chemistry and comfort as they move to the middle of their nonconference schedule in December.
That's why Self likes the timing of the South Dakota State game. It's a tough enough test for Kansas that Self does not think the Jayhawks will fall victim to a letdown after such a high profile game against Kentucky.
"I do think there's a chance that that could be the case," Self said. "But we'll convince our guys and we'll show them enough tape of what they're capable of."
Probable Starters
No. 4 Kansas
G – Devonte' Graham, 6-2, 185, Sr.
G – Malik Newman, 6-3, 190, Soph.
G – Svi Mykhailiuk, 6-8, 205, Sr.
G – Lagerald Vick, 6-5, 175, Jr.
C – Udoka Azubuike, 7-0, 280, Soph.
South Dakota State
G – Brandon Key, 5-10, 180, Jr.
G – Tevin King, 6-2, 200, Jr.
G – Skyler Flatten, 6-6, 215, Sr.
G – Reed Tellinghuisen, 6-7, 215, Sr.
F – Mike Daum, 6-9, 250, Jr.