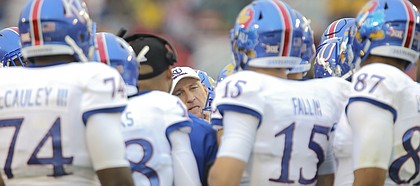 Nearing the conclusion of his third year in the Kansas football program's ongoing reclamation project, head coach David Beaty said following the Jayhawks' home loss to formerly winless Baylor that the Bears were in "nowhere near" as bad a situation in the first year under coach Matt Rhule as KU was two seasons earlier, when he took over.
According to Beaty, the team he coached in 2015 season was down "30-plus scholarships."
So how many scholarship players is Kansas up to right now?
The Jayhawks' head coach declined to answer that question Monday morning during his time slot on the Big 12 coaches media teleconference.
"You know, there's a couple of different numbers there and I would prefer not to talk about it publicly," Beaty began. "And the reason I say that is every one of our players are of value. And I don't care what they came here as. They're ours. They belong to us and our job is to develop them; develop them and get them ready."
Although Beaty has opted during signing day press conferences not to identify some players as scholarship athletes or walk-ons, he seemed to be more forthcoming on those numbers in recent months. At an event for KU football supporters this past June, Beaty said he hoped to have around 76 scholarship players in place this season.
Four weeks ago, during his weekly Hawk Talk radio show, Beaty said KU had "about 84" players on scholarship — one below the NCAA maximum of 85 — while making it clear an unspecified number of those belonged to Jayhawks who entered the program as walk-ons.
"Our administration has been phenomenal. The entire team has been really, really good in terms of trying to help us solve that roster issue," Beaty continued Monday, after turning down a chance to address the current number of players on scholarship. "And we've worked together to do it. We're not quite there yet, but we do know that the plan is in place. And it will take us a little while to get it done, but we will eventually get it done. And I think the thing I really am most proud of is the help that our administration would give us and then the culture we've been able to create with the guys that we have there."
KU's scholarship numbers took significant blows prior to Beaty's arrival, with players leaving for various reasons as the program transitioned from head coach Mark Mangino, to Turner Gill, to Charlie Weis to Beaty. How can an administration help a football program trying to get back to full strength in that department, exactly?
"There's a lot of things and a lot of pieces that go into place in terms of research and how you manage things that you can control," Beaty said. "What do you control? What you control is the ability to sign 25 players a year. That's what you control. From that standpoint, once you figure that out, then sitting with your administration and sitting with some of the people that are amongst our university and trying to come up with a great plan to close the gap faster than the normal 25 would allow you is really, that's where the work had to be done. And being able to manage that. If I had to do it alone, it would've been a much tougher job. But they've been very supportive."
Asked how many players KU currently has in place, scholarship or not, Beaty said: "We've got probably 104, something like that. Maybe 103."
As of Monday afternoon, the Kansas football team's online roster listed 109 players, but included the names of some inactive Jayhawks, such as Octavius Matthews, who retired because of health concerns, and Charles Baldwin and Derrick Neal, who haven't suited up for recent games, as well as those whose injuries will keep them out for the season, such as John Wirtel, Keaton Perry and Isi Holani.
KU's active roster provided for media at the Baylor game this past weekend listed 84 players.