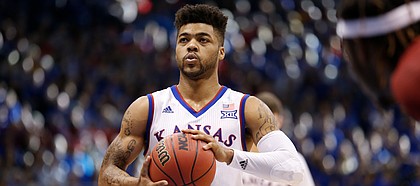 Moments after calling this summer's 2017 NBA Draft "point guard heavy," former Duke standout and current ESPN analyst Jay Williams pinpointed former Kansas star Frank Mason III as one of the players he most was looking forward to watching during Thursday's 5-on-5 scrimmages at the pre-draft combine in Chicago.
Mason, who tipped off his first game at the combine around 2 p.m. Thursday as a starter for the white squad, wore No. 13 and was on the floor with his KU teammate, Svi Mykhailiuk, who wore No. 53 and started for the gray squad.
The two players got plenty of opportunities to showcase various parts of their games, with Mykhailiuk getting plenty of open jumpers and Mason running the show as the white team's point guard the way he did at Kansas for the past few seasons.
Mason, who became the first player in Big 12 history to average 20 points and five assists in a single season during his recently completed national-player-of-the-year run, looked comfortable, poised, aggressive and confident throughout his time on the floor.
Williams, however, was quick to point out that it was more about what Mason did from Thursday on than what he did during his four years at Kansas that would determine whether he makes it in the NBA.
"Just because you're the national player of the year doesn't mean you're going to be a first-round draft pick," Williams said. "Length, height, size, athleticism, explosion; Frank has a couple of those things, but he's not a great passer, he's a scorer and this is a huge opportunity to show what he can do."
As many in his corner had pointed out previously, however, Williams also was quick to point to Mason's intangible qualities, which Oklahoma City Thunder coach Billy Donovan also said could play a big role in the draft.
"The kid has moxie," Williams said. "That mentality may get him drafted in the first round."
Added Donovan, when asked by ESPN's Jeff Goodman what he was looking for at the combine: "I think for us, more than anything, is what type of person you're bringing in. Is he going to fit, is he going to put in the time and the work and is he going to be a good fit for your organization."
More than half of the 67 players invited to this year's combine (37 or 38, according to ESPN's broadcast) were scheduled to participate in five-on-five scrimmages this week, while nearly all of the athletes also were slated to run through various agility tests, ranging from max vertical jump and standing vertical jump tests, three-quarter court sprints, a shuttle run and lane agility measurements.
The players also spent the early portion of the week having their measurements taken and participating in interviews with the dozens of scouts, coaches and NBA executives who made the trip to Chicago.
"The craziest question was probably, 'If I were to die, which way would I want to go out,'" Mason told ESPN's Jeff Goodman. "That was crazy. I said in my sleep because I wouldn't want to suffer from any pain or anything so I'd just rather be asleep around my son and my family."
Perhaps the most noteworthy of this week's measurements was the fact that Mason was one of just three players who was measured under 6 feet tall without shoes.
Mason, 5-11 in socks, 6-foot in shoes, joined Michigan senior Derrick Walton (5-11) and Oklahoma State point guard Jawun Evans (5-10.8) in measuring under the 6-foot mark.
Mykhailiuk on the other hand, who, at one point led all combine participants Thursday with a 70.3 percent shooting clip during a catch-and-shoot-on-the-move drill, measured 6-6.5 in socks, 6-7.5 in shoes, had 11.4 percent body fat, an 8-inch hand and a 33-inch max vertical.
Still, most of the focus, from a KU perspective remained on Mason. After his day was done, in an interview with ESPN's Jeff Goodman, Mason acknowledged that his height limitation could be used against him.
"I'm not really sure. Maybe because of my height," said Mason when asked why he wasn't receiving more love. "But I just focus on what I can control and that's getting better at what I love to do. And that's what I do every day, I try to get better in all different areas."
While his God-given height hardly impressed, Mason's vertical height — during the max vertical test — wowed plenty. His 41-inch leap was second highest among all combine participants, which, once again, showed that Mason's main focus is performing and not worrying about what measurements or critics say.
"It was different just a little," he said of the Thursday scrimmage. "But I've been playing ball all my life so I just step out on the court and do what I know I'm capable of."
Other notable measurements from Thursday included Mason's 4.3 percent body fat, 8-inch hand and 3.18-second three-quarter court sprint, good for sixth place.
Regardless of height, hand size, weight or any other concrete measurable, many in attendance seemed to see enough from Mason to believe he belonged in the league.
Tweeted Jonathan Givony, who runs DraftExpress.com: "Rough first combine game. Not that surprising considering nature of setting. Frank Mason reconfirmed how good a basketball player he is."