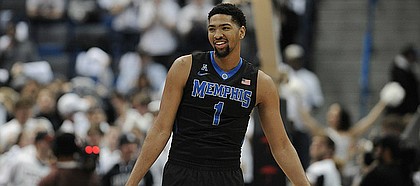 Kansas basketball coach Bill Self understandably was delighted to welcome not one, but two talented Lawson brothers into the program from native Memphis.
Try to imagine the extent of euphoria a high school coach would experience if he could do the same and welcome a pair of Lawson brothers into his basketball program.
K.J. and Dedric Lawson combined to average 31.5 points and 18 rebounds per game for Memphis last season. They will be practice players for Kansas this season and resume their careers the next.
The NCAA does not allow schools to pay for redshirts to travel, so when the Jayhawks are on the road, K.J. and Dedric will have to find something to do in Lawrence. I can't imagine there is anything they would rather do than watch their younger brothers wow crowds at their high school basketball games.
If the entire Lawson family moves to Lawrence, the tickets at Allen Fieldhouse won't be the only hot ones for basketball in town. The Lawsons would become the most anticipated high school transfers to move to Lawrence since Danny Manning.
Rivals ranks Chandler Lawson, a 6-foot-8, 200-pound forward as the 34th-best Class of 2019 prospect in the nation.
Johnathan, two years behind Chandler, will enter high school in the fall. If you think that's too young for his name to appear on the lists compiled by ranking services you haven't been paying attention. Future150.com ranks Johnathan, listed at 6-5, 160, as No. 6 in the Class of 2021, two spots ahead of 6-2 point guard Daylan Jones of Wichita.
When Chandler's a senior and Johnathan's a sophomore, Dedric and K.J. will be playing in games in Allen Fieldhouse. The view from the seats in the family section is as good as it gets.
Naturally, Chandler and Johnathan have all sorts of options, including powerhouse prep schools, but those options don't offer the chance for the family to stay together in one town, so the parents can see all their sons play and the brothers can watch each other. Chandler resisted the temptation to head to one of the powerhouses and stayed in Memphis. Now that his two older brothers are in Lawrence, it's not a stretch to believe the family could move to town and the brothers could join either — I'm listing the schools in alphabetical order so as not to be accused of favoring one over the other — Free State or Lawrence and make that school the instant favorite to win the 6A state title.
Lawrence was the 6A runner-up this past season and Free State was third. Key players from both squads return next season. The Firebirds have seniors-to-be Garrett Luinstra and Jalan Robinson and junior Noah Butler, a transfer from LHS. The Lions will have senior Anthony Selden — the family moved here to watch Wayne play for KU and liked Lawrence so much they decided to stay (forgive the oh-so-subtle hint aimed at the Lawson family) — and juniors Brett Chapple, Clarence King and Trey Quartlebaum.
Families moving to Lawrence to watch their sons play for KU has become extremely common and it wouldn't surprise me one bit if the Lawsons decided to do the same. Talk of them considering doing so is in the air. It's in the whisper stage at the moment, but the whispers are growing a wee bit louder by the day.
Just in case, it might be time to put a fresh coat of paint on the welcome wagon. For now, better make it a primer coat. Too early to say whether to shop for green and white or red and black in the paint department.