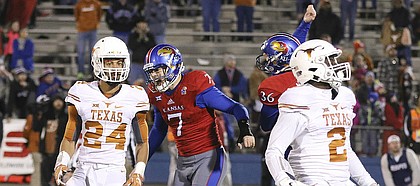 Among the 253 picks in the NFL Draft this past week, only three were used on kickers.
Like many un-drafted, long-shot specialists, former Kansas kicker Matthew Wyman will attempt to break into the professional ranks the hard way.
The 6-foot-1, 220-pound Wyman, KU announced Monday, accepted an invitation from the Kansas City Chiefs to try out at their upcoming rookie camp.
A native of Bloomfield Hills, Mich., Wyman played four seasons with the Jayhawks, making 29 of his 48 field goals over the course of his college career.
He was successful on 13 of 19 field goals as a senior, with a long of 50 yards, and converted all 26 of his PAT tries in 2016.
Wyman's three-for-three day against Texas, which included successful field goals in the final seconds of regulation and in overtime, keyed a KU victory in the program's home finale this past fall.
On 53 kickoffs during his last 12 games in a Kansas uniform, Wyman turned in 30 touchbacks.
Wyman joins cornerback Brandon Stewart (L.A. Chargers) and safety Fish Smithson (Washington) as un-drafted NFL hopefuls in the months ahead.