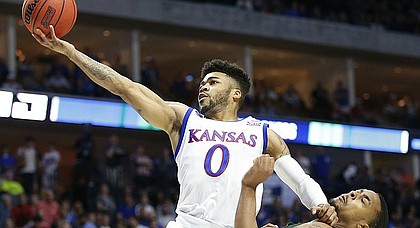 His ability to maximize his opportunities in life probably had as much as anything to do with Frank Mason III becoming such a popular figure in his four seasons as a Kansas basketball player.
Nobody could have predicted what Mason accomplished for his career and especially as a senior.
He became the sixth-ranked scorer in Kansas history with 1,885 points, just three behind Sherron Collins, a player to whom comparisons started when Mason was a freshman.
As a senior, Mason became the first KU player to average 20 points since Wayne Simien averaged 20.4 points in 2004-05 and Mason's 20.9 scoring average is the highest since Danny Manning averaged 24.8 in leading the Jayhawks to a national title in 1988.
Mason came just as far as a communicator as on the court in his four years. Given to one-sentence answers as a freshman, he gradually came out of his shell and became a go-to interview after games because of his frankness.
His name never surfaced in connection with trouble because that would be inconsistent with someone laser-focused on maximizing his opportunities, which for sub-6-footers don't come easily in professional basketball.
The day before the Oregon game, Mason shared a little about the rough nature of his hometown, Petersburg, Va.
"Just a lot of violence," Mason said. "Going outside every day a lot of fights, could be a lot of shootings, gun shootings, any kinds of violence, things like that."
"I had a few friends that I played elementary football with or middle-school football with who got caught up in their life . . . they passed away when they were older."
His reaction when he heard the news about former friends: "It just made me reminisce about the times we had together and how I could have been in that situation hanging around those guys one weekend if I didn't play AAU basketball."
He used basketball for an education and now he'd like to turn it into a career in the NBA.
Mason worked so hard at turning his remarkable athleticism into basketball skill that he has a chance to become the first KU player to sweep all three of the major player-of-the-year awards. Manning won the Naismith and Wooden awards, but the Associated Press press honor went to Bradley's Hersey Hawkins.
AP ballots for All-America and player of the year were turned in on Selection Sunday, so KU's victory against Purdue and Caleb Swanigan won't be taken into account. Even so, my guess is Mason, who reached double figures in all but one game, will win the award.