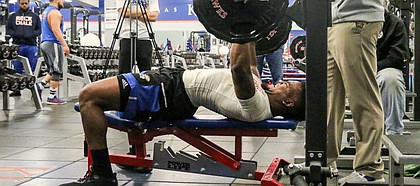 Fish Smithson couldn't sleep Sunday night. The safety's three-season Kansas football career ended nearly four months ago and almost everything he had done since was leading up to Monday morning and a couple hours full of measurements and stop watches at KU's annual pro day.
"I was just up," Smithson said of the overnight hours, ahead of bench presses, sprints and drills in front of NFL scouts and assistants. "Just thinking about all the things I've been through. I don't know why, but I re-watched my high school championship game. I re-watched that and we (Highland, in Salt Lake City, Utah) won, and I just kind of re-lived some of my moments that got me here. I took that with me into the day."
A 5-foot-10, 201-pound defensive back who led the Jayhawks in tackles in each of his final two seasons, Smithson said he doesn't think often about whether he will hear his name called during the 2017 NFL Draft (April 27-29) or if he will have to take a more difficult route toward his dream of playing in the league, like his older brother, Shaky, did briefly. But Fish felt a little better and confident about his chances moving forward by the time the pro day ended inside Anschutz Pavilion Monday afternoon.
"I think I did well. I know I did the best I could," Smithson said afterward. "Of course, every athlete is gonna be picky. You want everything to be just perfect. But it don't go like that — and games don't go like that."
Smithson bench-pressed 225 pounds 17 times, leapt to a vertical of 36.5 inches, made a broad jump of 9 feet, 4 inches and ran his 40-yard dash in 4.51 seconds — tops among 18 participants at KU's pro day, beating out fellow defensive back Brandon Stewart (4.58) and running back Ke'aun Kinner (4.53).
After the workouts concluded, Smithson spoke at length with representatives from various teams, including Detroit and Washington.
One evaluator praised KU's sure-tackling safety, a non-invite to the NFL Draft Combine a couple weeks back, for always jumping to the front of the line during drills, sharing that showed a lot about Smithson's character.
"I was doing that regardless. Actually, I was trying to cut a few people in our weight room when we was doing other drills. They said it was alphabetically, so I went to the back of the line then," a smiling Smithson said. "That's how I am. I love this game, I'm really competitive. I just want to be in the front."
CBSSports.com ranks Smithson as the 11th-best free safety in his draft class, and projects him as either a seventh-round selection or free agent.
In the 256-pick draft, CBS ranks Smithson the No. 272 prospect. The site also lists KU fullback Michael Zunica (328th overall, seventh among fullbacks), safety Tevin Shaw (977th, 44th free safety) and corner Stewart (980th, 96th CB).
KU PRO DAY PARTICIPANTS
(Player — Height, weight | Bench | Vertical | 40-yard dash)
DB Greg Allen — 5-11, 212 | 7 | 29 | 4.62
LB/DB Courtney Arnick — 6-0, 201 | 15 | 32 | 4.74
OL D'Andre Banks — 6-2, 309 | 22 | 28.5 | 5.32
WR Shakiem Barbel — 6-2, 200 | 13 | 35.5 | 4.75
DB Bazie Bates IV — 5-11, 188 | 8 | 38.5 | 4.78
RB Ke'aun Kinner — 5-8, 183 | 17 | 36 | 4.53
DL Damani Mosby — 6-2, 271 | 16 | 31.5 | 5.06
WR Austin Moses — 5-11, 191 | 8 | 30 | 4.99
DB Marnez Ogletree — 5-9, 189 | 10 | 32 | 4.68
LB Marcquis Roberts — 5-11, 219 | 10 | 36.5 | 4.98
DL/LB Cameron Rosser — 6-1, 232 | 26 | 35.5 | N/A
DB Tevin Shaw — 5-10, 194 | 24 | 35.5 | 4.65
DB Fish Smithson — 5-10, 201 | 17 | 36.5 | 4.51
DB Brandon Stewart — 5-10, 176 | N/A | 33.5 | 4.58
K Matthew Wyman — 6-1, 206 | N/A | N/A | N/A
FB Michael Zunica — 5-10, 237 | 22 | 32.5 | 4.91