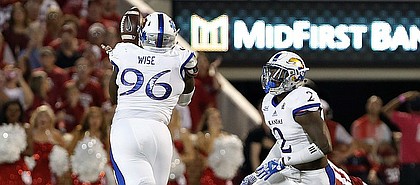 Kansas defensive end Dorance Armstrong, with his long-and-strong arms and growing list of accomplishments, casts such a wide shadow it leaves little room for teammates from a 2-10 squad to get much of the spotlight, but Daniel Wise manages.
If Armstrong is the Michael Jordan of the Kansas defense, then Wise is the Scottie Pippen. Wise, who lines up at defensive tackle and even plays a little defensive end, is too big and too explosive to ignore.
Armstrong, No. 2, is the No. 1 reason to believe Kansas has a shot at having its best defense since the 2007 squad that won the Orange Bowl and finished the season with a 12-1 record. Wise, No. 96, is the No. 2 reason.
That defense had All-Pro cornerbacks Aqib Talib and Chris Harris, safety Darrell Stuckey, who is entering his eighth season with the Chargers, and second-team All-American James McClinton at defensive tackle. Given that, it's not reasonable to expect this coming season's defense to measure up to that of the one that led Kansas to a 24-21 victory against Virginia Tech in the Orange Bowl.
But becoming the school's best defense since that one has a realistic ring to it. In the nine seasons of college football statistics tracked by cfbstats.com, Kansas has ranked in the top 100 in the nation just three times: 2008 (83), 2009 (84), 2013 (94).
Last season, the Jayhawks ranked 113th and allowed 37.3 points per game.
Safety Fish Smithson, an extremely smart football player who mixed in four interceptions to go with his sure tackling, will be missed, as will smart, hard-hitting nickel back Tevin Shaw.
But overall, the Kansas defense should be significantly better than last season's and the cause for optimism starts up front.
Wise and Armstrong consistently are cited as two of the most committed weight-room competitors on the team. That should help them become even bigger, faster, more flexible and more confident.
They will be working for their fourth defensive line coach in four seasons, certainly not an ideal situation for most players, but for two athletes who blend big doses of smarts and desire, they might figure out a way to turn the instability into a positive, as in picking up pointers on executing pass-rush moves from their previous coaches, discarding the ones that didn't work well for them, and picking the brain of Jesse Williams, stolen from Ohio University to replace canned Michael Slater.
The Bobcats' defense that Williams had a hand in coaching limited Kansas to 35 yards rushing on 1.7 yards per carry in Ohio's 37-21 victory last season. From the outside, the other coaches seem a good deal higher on Williams than they ever were on Slater. Williams also has more talent with which to work at defensive tackle.
KU recruiting coordinator Kenny Perry spent two years on the trail of Hutchinson Community College defensive tackle J.J. Holmes and landed him. Nobody on the defense will have a more crucial conditioning season than Holmes, who has a tendency to put on weight when he returns home to Florida. If he can use the long, hot summer to get down to playing weight, he has a chance to make a big impact immediately as a junior because of his raw strength and unusually quick feet for a man his size.
DeeIsaac Davis started 10 games last season. Isi Holani battled his weight all season and still showed flashes of quickness that suggest that if he can keep his weight under control he can make big contributions. Senior Jacky Dezir appeared in 17 games the past two seasons and can join the rotation in event of injury. Kansas has better numbers at the position than it typically does, which is important at a spot where players tire more easily than any other.
KU also has numbers at linebacker, where they use just two players at a time.
Juniors Joe Dineen and Keith Loneker top the depth chart and four intriguing prospects will push them: juniors Osaze Ogbebor and Denzel Feaster, red-shirt freshman Dru Prox and true freshman Kyron Johnson.
Defensive end depth isn't as good as at tackle or linebacker, but better than in the secondary. Putting weight on ultra-quick defensive end Isaiah Bean has proved a much bigger challenge than it was for Armstrong. Josh Ehambe enters camp as the lead candidate for the other starting defensive end spot. Juco transfer Willie McCaleb, hybrid linebacker/D-end Maciah Long and senior Kellen Ash will battle for snaps.
Mike Lee, coming off a big freshman season at safety, is the most proven, talented member of the secondary. Tyrone Miller, the other projected starting safety, had a terrific spring after a disappointing sophomore season. Bryce Torneden will be counted on as top reserve at both safety and nickel. Quick, fast senior Derrick Neal is the projected starter at nickel back.
The single biggest key to the defense: Cornerback Shakial Taylor. He played against Kansas for South Dakota State as a freshman, transferred to junior college as a sophomore in hopes of landing a Div. I scholarship and will be given every opportunity to win a starting job. Sophomore Kyle Mayberry and juco transfer Hasan Defense, a sophomore, also are promising cornerbacks.
Kansas lacks the depth of most Big 12 schools, so as always it's important to avoid injuries. If they have good fortune on that front, with Armstrong and Wise leading the way it's reasonable to expect the Jayhawks to slow down high-powered Big 12 offenses better than they have in many, many years.