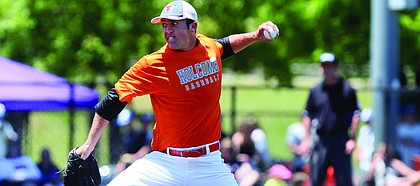 A high school football game Friday night in southwest Kansas and a college baseball exposure camp Saturday morning in northeast Kansas. Even for a teenager, that's quite an ambitious undertaking and hardly ideal conditions for an athlete trying to catch a college baseball coach's attention.
A full night's sleep, staying off your feet the night before, etc. That's how most prospects prepare for exposure camps.
Then again, Conner VanCleave isn't like most athletes packed with baseball potential. For one thing, he stands 6-foot-7. For another, he plays three sports. Also, he's not easy to label. Is he a pitcher? A first baseman? An outfielder? Yes, yes and yes.
Give him a ball and he'll have a ball playing with it until the classroom bell or dinner bell rings.
He was a busy teenager during his time at Holcomb High, so if showing the University of Kansas baseball coaching staff what he could do on a half-night's sleep after riding in a car the other half of the night was his only option, there was no choice to be made. He was all in.
KU coach Ritch Price was all in after watching VanCleave play first base and right field, pitch and make four trips to the plate, competing against other high school prospects. VanCleave, Gatorade Player of the Year in the state of Kansas, will attend KU on a baseball scholarship this coming school year.
The recollections of Price and VanCleave coincide from that day last autumn when the seeds were sewn for a KU baseball career, which says something about the significance of it to both men. It was not an easy day to forget.
VanCleave's four at bats: double, triple, double, single. He pitched two innings, featured a fastball clocked in the 86-88 mph range, a 12-to-6 curveball and a knuckle curve.
The game took place after lengthy batting practice and a series of sprints on a muggy day. And the star was the kid from Holcomb who had played a football game the previous night and pulled into Topeka at 3 a.m. for half as many winks as he could have used.
"I was tired by the end of the (baseball camp) game," VanCleave said by phone from home. "I enjoyed every minute of it. It was a great place to be able to perform against great competition with the coaches there."
Price said VanCleave, "had a perfect day, really impressive to watch. On the mound he showed good command, showed an ability to sink the ball, threw hard. I honestly don't know what he's better at, so we're going to let him do both."
VanCleave didn't bat a thousand every day against the competition he faced in western Kansas, although he came a great deal closer than most.
"He was hitting seven hundred something and we're sitting in the office one day when the updated stats came in, chuckling because his average went up," Price said. "How can it go up?"
VanCleave finished the season with a .768 batting average, slugged 1.500, had an on-base percentage of .831 and 25 of his 43 hits went for extra bases. As a pitcher he went 8-1 with an ERA of 0.29. He walked 10 batters and struck out 101 in 48-2/3 innings.
Obviously, statistics don't help to answer the question as to whether he has a better future as a pitcher or hitter. The numbers also show that he was far too good for the competition he faced in leading the Longhorns to a 4A-II state title.
VanCleave also led his school to its second state basketball title in three seasons, totaling 31 points and 15 rebounds in the title game.
In the wake of the baseball state championship, Conner's father, Todd VanCleave, resigned from his post as the varsity baseball coach. He said he has coached his son since he was 9.
"Baseball's always been my favorite sport," Conner said. "That was the state championship that was the most important one, going out with a bang like that, doing something I've dreamed of since I was 9 years old, winning a state championship with this group of players. Also, it made it sweeter with my dad being the head coach."
Given all the work father and son have put in together, Todd didn't want to turn Conner's baseball development over to just anybody.
Todd did his homework, which included a call to the man who recruited him from Garden City Community College to George Mason University to play baseball.
Kansas City Royals general manager Dayton Moore also played at Garden City and then George Mason and was a graduate assistant when he convinced Todd VanCleave to make the same jump he made two years earlier.
"Dayton's a great guy," Todd said. "Dayton's one of those guys who could talk anybody into wanting to be a great baseball player. He has that personality that makes you want to be on the field."
Having known Moore for nearly 30 years, VanCleave knew he could trust his scouting report on Price.
"When someone like Dayton Moore tells me he loves coach Price, that's another nail in the coffin for me wanting my son to go there," Todd VanCleave said.
Facing challenging competition no longer will be a problem for the younger VanCleave. He's playing in a summer collegiate league in Arizona during his transition from small-school high school competition to the Big 12.
As a hitter, he'll be facing much harder throwers with sharper breaking pitches than he faced in high school and they'll have better command of the strike zone and a better feel for pitching.
As a pitcher, he'll have to figure out how to tame stronger, more disciplined hitters who have the bat speed to catch up to whatever hard throwers send their way.
"The one thing Conner has over most high school kids coming out is that he changes speeds really well to keep hitters off balance," his father/high school coach said. "Coach (Ryan) Graves will refine some of his mechanics that dad doesn't know enough about. Sometimes being father and coach is hard because you harp on the same things over and over and then you harp on them when you get home as well, sometimes those things start to cause tension between the two of you."
So, he explained, he picks his spots and keeps some potential pointers to himself.
"Coach Graves will see things, refine them and make him a better pitcher," Todd VanCleave said. "Ever since he was young I was always looking forward to seeing how much of a jump in ability he would make once he decided to focus on one sport."
Conner's down to one sport, just not one role.
"I wanted to try to keep hitting to see what I could do at next level," he said. "Pitching has always been the top thing I've wanted to do. I just wasn't ready to give up the hitting just yet. And being in the field, you can always be part of the game, no matter what, making a big difference for the team."
VanCleave stands at the bottom of a big hill, making the climb from the small-time to the big-time. If he makes it, he'll be far from the first to do so from small-town Kansas.
Hall of Fame pitcher Walter "Big Train" Johnson of Humboldt in the southeast quadrant of the state won 417 games and posted a 2.17 career ERA.
Chicago Cubs shortstop Joe Tinker of Tinker-to-Evers-to-Chance, the double-play combination immortalized in baseball poetry, was born in in the northeast Kansas town of Muscotah.
Elden Auker of Norcatur, in the northwest corner of the state, won 130 games in the big leagues after earning All-Big Six honors in football, basketball and baseball at Kansas State.
If those small town boys from the other three areas of the state made it big, why can't the big left-hander from the southwest Kansas town of Holcomb do the same?