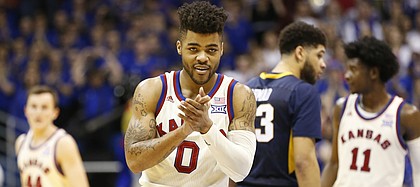 Kansas basketball coach Bill Self will travel to New York for the NBA Draft next week and he's hopeful that two KU players will be selected in the first round.
Along with Josh Jackson, who is widely expected to be a top-five pick, Self is confident that Frank Mason III has improved his draft stock to surge up NBA teams' draft boards. 

"We're hopeful Frank can sneak in the first (round)," Self said Friday at the 14th-annual Bill Self/Lawrence Parks and Recreation Golf Classic at Eagle Bend. "But if not, I think he can go in the top 40 picks, like the first 10 of the second (round) with the feedback we're getting."
Mason, the consensus national player of the year, has worked out with several teams since guiding to the Jayhawks to the Elite Eight. The 5-foot-11 point guard completed his second pre-draft visit with the Sacramento Kings on Wednesday.
With strong performances in the workouts and the NBA combine, Self is hopeful that it will outweigh any concerns about Mason's size.
"Frank has done himself well," Self said. "People that are picking early second (round) are hopeful that he can be there because I think there's a chance he could sneak into the late first…. I talked to Frank this morning and he's hopeful for that. But the reality of it is, I don't see anything stopping him, though, regardless of where he gets picked."
Jackson is on the shortlist of players vying to be the No. 1 overall selection by the Boston Celtics, if they don't trade the pick.
The 6-8 Jackson recently completed his second pre-draft workout with the Los Angeles Lakers, who own the No. 2 pick. Self said Jackson will likely participate in more workouts leading up to Thursday's draft.
"There's a lot of talk out there about the Celtics right now, maybe shopping their pick or potentially throwing Josh's name out there," Self said. "You don't know why people do that if it's not true. I think he's got a good chance to go two, for sure."
With the draft quickly approaching — it begins at 6 p.m. Thursday at the Barclays Center in Brooklyn, N.Y. — Self said he's heard from several NBA teams, which are completing all of their background work on potential picks.
"Probably talked more to them in the last couple of days," said Self, who will attend an National Association of Basketball Coaches event Wednesday. "It's getting down to basically the time where decisions are going to have to be made."
Outside of Jackson and Mason, Self wasn't expecting Landen Lucas to be drafted in the second round.
Lucas participated in a couple of pre-draft workouts with various teams since completing his college career, including the Detroit Pistons on Thursday.
"We'd want that for Lando, but I haven't heard that," Self said. "I would think his best bet would be as a free agent. And that's not all bad."
Away from the basketball courts, Self had the opportunity to hit the golf course for charity Friday. All of the money goes to a scholarship fund to help children participate in youth sports.
"This is a good cause," Self said. "The parks and rec folks in town have done so much to help our youth out and provide opportunities for them. It's always fun to get out here."
Preparing for Italy: Allotted 10 practices prior to the preseason trip to Italy, Self said the Jayhawks would take more than a month to use all of them.
The Jayhawks will play four exhibition games from Aug. 2-6, including two games in Rome and two games in Milan.
"We're going to do it differently," Self said. "We're going to go twice a week for five weeks."