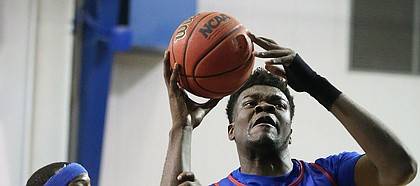 Camp games played without coaches generally turn into competitions to see which team does a better job of hitting 25-footers and getting more uncontested dunks.
There were plenty of both in Wednesday's scrimmage that pitted former Kansas players against the current team at the Horejsi Center.
Such games can make it tough to draw many conclusions in terms of what translates against disciplined opponents running structured offenses in games played with three professional referees and so much on the line.
And then there is the case of Udoka Azubuike, rising sophomore center from Nigeria. He has the one thing guaranteed to translate well. He has size. He's eager to use it. And he appears a good bit closer to knowing how to use it than he was a year ago.
It takes a big, big man to make Darnell Jackson look small by comparison, but Udoka did it. Jackson hasn't lost any of his muscle and he makes a living playing professional basketball in Poland. He was more than a little bit impressed with the Kansas center, who is listed at 7-feet tall and 280 pounds.
"There are no words for him," Jackson said. "He's unbelievable down there. He's a real problem. I'm excited. I hope these guys go all the way."
What makes him unbelievable?
"Just his strength and how long he is," Jackson said. "When he gets his footwork down, he's going to be a real big problem down in the post."
Azubuike caught everything thrown his way, hustled after rebounds of his area and patiently backed down his man before putting up easy shots.
"He's very big," Jackson said. "He's heavy down there. When he hit me a couple of times, I was like, 'OK, you got it. I'm done.' I enjoyed it."
So did Azubuike.
"It felt really good to be back on the court with my teammates," he said.
Photo Gallery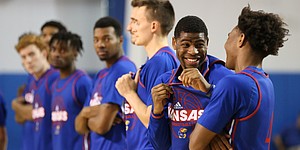 KU Basketball Scrimmage
Current players and past players scrimmaged for the campers at Bill Self's basketball camp on Wednesday.
The guards always knew his whereabouts and made a point to feed him, at least until the game turned into a back-and-forth barrage of swished 25-footers.
"This year, I think coach is emphasizing the guards have to go through the bigs, go through the bigs, and that really is going to open up things for people like Malik, Devonté, because they can shoot," he said. "They are good shooters. For them to really get an open shot, they have to go through the bigs. Coach is emphasizing it and my teammates, they know when they get me the ball and I make a bucket, they know they have the open chance at scoring."
He said he weighed in at 279, an ideal playing weight, and is confident his stamina will continue to improve now that he's been cleared for full contact.
"I need to get back in shape," Azubuike said. "I don't think it's going to take long. It's just about a process. When time goes on, I'm going to see the progress I've been making and it's going to be good."
He played in 11 games, averaged 12.9 minutes, 5 points, 4.4 rebounds, 1.6 blocked shots and 2.8 personal fouls before suffering the wrist injury that cost him the rest of last season. It's clear he was paying attention when unable to perform.
"Sitting out, watching practice, that was really big for me," he said. "I saw a lot of stuff, what to do, what not to do. It helped me a lot."
He said he believes his basketball mind is way ahead of where it was a year ago.
"Definitely, I feel confident in myself," Azubuike said. "I feel like I understand a lot more than I did last year."
He had enough raw ability to turn 15 minutes of playing time against Duke in Madison Square Garden into six points and 12 rebounds in his second college game. He still lacks seasoning, but not for his age and size. He will not turn 18 until Sept. 17, which makes him old enough to enter the 2018 draft. The rules stipulate that any player who turns 19 during the calendar year of that draft is eligible. He'll turn 19 on Sept. 17, 2018. It's not too early to project him as a 2018 lottery pick.
Scrimmage scoring:
BLUE (82) — Devonte' Graham 28, Malik Newman 18, Udoka Azubuike 12, Mitch Lightfoot 12, Lagerald Vick 8, Sam Cunliffe 2, Billy Preston 2, Marcus Garrett 0, Charlie Moore 0, Dedric Lawson 0, K.J. Lawson 0, Jack Whitman 0.
RED (75) — Ben McLemore 15, Keith Langford 13, Mario Chalmers 12, Tyshawn Taylor 10, Perry Ellis 9, Sherron Collins 6, Elijah Johnson 6, Darnell Jackson 4, Russell Robinson 0, Mario Little 0, Conner Teahan 0.