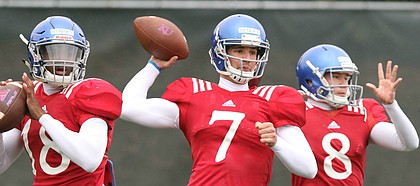 According to head coach David Beaty, the Kansas football team has a clear starting quarterback for Saturday's season-opener versus Southeast Missouri State — for the time being.
During his time slot on the Big 12 coaches media teleconference Monday morning, the opening question directed to Beaty was simple: Does your team have a starting QB?
"We do, but we won't be making that announcement until we get to game time," Beaty replied.
KU's third-year coach then began walking that statement back when asked whether the No. 1 quarterback or his teammates were privy to that information.
"They do not (know)," Beaty said. "They're going to compete. They're going to continue to compete each and every day."
The Kansas coach then dove into coaching rhetoric to make his case for why the current presumed starter might not be given that job come Saturday night (kickoff at 6, at Memorial Stadium).
"We talk a lot about that term starter is only as good as your next play, your next day, your next anything. So we don't put a lot of emphasis on that," Beaty offered. "The first guy that runs out there is only as good as his next, so it doesn't matter whether it's the quarterback or any other position. We'd like to find some stability there but it's going to come down to consistency and being able to do what that position needs to do to be able to help us win."
Publicly, Beaty and his staff and players have avoided hinting at who was leading a lengthy QB competition between junior transfer Peyton Bender and redshirt sophomore Carter Stanley.
When asked Monday about the possibility of playing both of them this week, Beaty just chuckled and indicated that was a subject on which he wouldn't speak.
The abilities displayed by both Bender and Stanley behind the closed gates of KU practices this month, according to their head coach, kept him from reaching a decision on a starter earlier.
"It was absolutely a situation where it was close, but at the end of the day it's one of those deals where most of the time it separates itself," Beaty said. "And for us, you know, we've still got a week left in our mind of what we think we would do. But we've still got a week left and if something were to change, it might change. But as of right now we know who we think might be the first one out there."