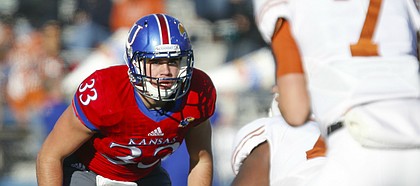 As his father was dying, Kansas junior linebacker Keith Loneker Jr. took a break from summer conditioning to be with him. Upon Loneker's return, head coach David Beaty took him aside.
"I'm like, Dude, you ain't got to be here,' c'mon," Beaty recounted. "He's like, 'No, I do need to be here. My dad wants me here.' Then the very next day was when we lost Keith."
And the day after that, "Little Keith," as family and friends have been known to call him, was back at the football complex.
"I knew that's what my dad would want," Loneker said.
And how did he know that?
"I remember when his father died about three years ago, the next day he went to work," Loneker said. "That's what I did. When he passed, I was up here the next morning at 6 with my guys. That's just what he taught."
Loneker Sr., who died at 46 from cancer, taught more than his son and daughter to value membership on a team. He taught it to countless young Lawrence boys who played football for the first time.
Joe Dineen, KU's other projected starting linebacker, was born the same month as Loneker Jr. They went to each other's first birthday parties. Dineen threw passes to Loneker at Free State High, where Loneker played linebacker, Dineen safety. They're roommates and best friends.
"Keith's a strong, strong guy and he's not the type who will come and ask you for help," Dineen said. "I shot him texts and stuff like that, but trust me, I had my fair share of times where I was sitting in my bed bawling my eyes out. Big Keith impacted so many in the Lawrence community and had such a positive impact on so many people. I take pride in the fact that he was my first football coach and that I know him so well. He was just a good dude."
In many ways, father and son were as different as their body types, Big Keith a massive man who led with emotion, Little Keith a fat-free, 6-foot-2, 225-pound, cerebral athlete and student. The father always had some little boy in him, the son a lot of man in him before his time.
They shared a passion for football, two students of the game who never met a play they didn't want to break down.
"He bled blue," Loneker said. "He's a New Jersey guy. First time he came here and saw cows and a zoo it was like, 'What are you doing here?' So for him to be a New Jersey guy and stay here and raise us here in Lawrence says a lot about what he cares about Kansas. That dude will lay anything out for Kansas. So it's in my blood."
Loneker smiled when he reflected on watching football games and movies at the side of a father dispensing football and acting pointers.
"It was never the big picture," he said. "He always had to point out little things. It used to annoy me. I was like, 'Hey, come on, just let me watch this.' Now I don't take it for granted because I know it helps me a lot."
Beaty marveled at how well Loneker has been able to train his focus on the task at hand as he competes with Osaze Ogbebor for a starting spot.
"He's been great," Beaty said. "I tell you what, I don't know, there's no way that I could be that good. I mean, I think he's been inspirational to our guys."
Loneker Jr. had neither the speed nor size to attract Div. I scholarship offers, so he played a year at Baker University and then came to Kansas with the understanding that he would pay his own way the first year and then be given a scholarship.
He has changed his jersey number to 47 in honor of his father, who wore 74 at Kansas.
"I think about my family when I come on the field," Loneker said. "That's why I switched my number to 47. It's not about me. It's about the Loneker name, for him and the 47 for him and Kansas University."
Big Keith never was bashful about sharing how proud he was of Little Keith and his sister Kylee, a soccer player at Fort Hays State. The father never stopped believing the son would make his way onto KU's football team. He was right and enjoyed watching him start four games at the end of the 2016 season, swelled with pride watching him total 16 tackles in KU's first victory against Texas since 1938.
Big Keith was no less proud of his son's academic achievements.
At Free State, Keith Jr. was named scholar-athlete of the year in 2014 and was a member of the National Honor Society. At KU, he has made the Big 12 Commissioner's Honor Roll and Athletic Director's Honor Roll in 2015 and 2016.
"I'm not getting my athletic genes from my mom," Keith said while also sending credit for his impressive football instincts to his father. "She was a cheerleader in high school, but she's not the most athletic. She's smart. I'm glad I got that from her, so I'll take that. I don't know if I got that from my dad."