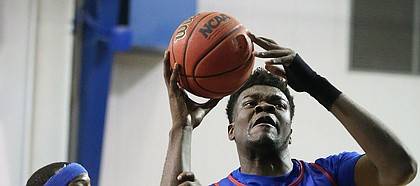 Udoka Azubuike has left the touring Kansas basketball fans and Italian spectators feeling as if they earned the price of admission by staging a dunking exhibition, starting with hard ones after which he hung on the rim, then adjusting to softer flushes at the high-volume behest of his coach.
Azubuike has hustled, deflected passes and even gone to the floor for loose balls. He has made himself ready for most, although not all, of the passes sent his way and will continue to improve in that area.
All good stuff, but he did nothing to quiet concerns about the gaping hole in his game: He can't shoot free throws. If he doesn't become significantly better, he leaves himself open to opponents employing a Hack-A-Dok strategy against him on a regular basis.
Atypically shy on front-court depth, Kansas needs its 7-footer on the floor as often as possible.
But if he can't do better than his 2-for-6 performance in Rome, Kansas coach Bill Self must get creative with his lineup late in games when protecting leads.
It's been six years since I've written about my No. 1 pet peeve in sports, so the statute of limitations has run out on being charged with repeating myself: Basketball players who struggle to make free throws must try shooting them underhanded, and coaches of those players must require them to give it a legitimate try.
Yet, throughout the entire sport of basketball, there is an unwritten macho code that prevents it from happening. It's as if you must have the last name Barry to have the courage to try it.
I contacted Hall of Fame basketball player Rick Barry on the topic six years ago, and he summed up the root of the problem so well I saw no point in contacting him again.
"Ego," Barry said by phone from his home in Colorado Springs. "It's unfortunate. It's a great way to shoot them. I don't understand. How do they not do everything they can to get better? How do you live with yourself when you shoot so poorly? It's called a free throw. It's the only constant in the game. Same target. Same size ball. You get to miss one out of every five and still shoot 80 percent."
Barry missed one out of every 10, retiring with a .900 mark. His son Canyon Barry exposed an entire new generation or two of basketball fans to the underhanded free throw during the NCAA tournament.
Playing for Florida as a graduate-transfer last season, Canyon Barry made 12 of 13 free throws in the tourney by using his famous father's underhanded method. He shot .883 from the line for the season.
Azubuike doesn't need to approach 90 percent from the line, but he must do better than the .379 he posted before a wrist injury ended his freshman season after 11 games.
It's not unusual for big men to struggle from the free-throw line. For one thing, the shots they shoot in games tend to be much closer to the basket, so there is no need for them to develop perimeter jumpers. For another, their huge hands get in the way of ideal spin, the way a pitcher with abnormally long fingers struggles to get the proper spin on a changeup.
The way the underhanded shot is tossed, with the hands on the sides and wrists flicked toward the hoop, the long fingers don't factor in the equation.
Barry insists that it doesn't take long to teach his method and big men shouldn't have any trouble picking it up. Wilt Chamberlain, the most dominant individual in the sport's history, had the best free-throw percentage of his career, .613, tossing them granny style. Embarrassed, Wilt reverted to the conventional method and in six different seasons, he shot .446 or worse. It was the only thing he couldn't do on a basketball court and we'll never know how much better he could have done it had he stuck with the unconventional method for the duration of his career.
During his days with the Golden State Warriors, Barry taught 6-foot-11 center George Johnson how to use his method and Johnson, who had a .412 accuracy rate as a rookie, shot .806 from the line by his fifth season.
Defenders will do their best to keep Azubuike from getting into position to dunk and in the process, they will commit foul after foul.
Sure, he would be teased in enemy gyms. So what? Bottom line: It's not how a free throw looks at release that matters, but rather how it looks on the scoreboard.