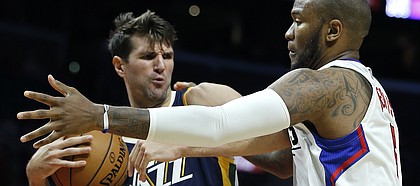 Former Kansas center Jeff Withey, now in the NBA with the Utah Jazz, has been accused by his former fiancée of domestic violence, according to various media reports.
TMZ.com first reported Kennedy Summers, a former Playboy Playmate, made the allegations to the Manhattan Beach Police Department earlier this week, when Withey was in Los Angeles for his team's playoff matchup with the L.A. Clippers.
No charges have been filed in the case.
"We are aware of the media reports involving Jeff Withey," the Jazz stated in a release. "At this point, we are collecting information and will have no further comment until we have a better understanding of the situation."
The couple broke off an engagement in October, and a publicist for Summers stated the charges came because Withey's ex-fiancée "needs to protect herself and come forward about everything so this doesn't happen to her or others in the future."
An attorney representing Withey, in a statement, called the allegations "salacious and patently false."
"It is no coincidence that these fabricated claims conveniently come during the middle of the NBA playoffs, or that TMZ and the police department were notified on the same day," Alan Jackson of Werksman Jackson Hathaway & Quinn in Los Angeles, said in the statement. "There is no truth to the accusations, and when the facts come to light we are confident that the falsity of the claims, and the true motivations of the person behind them, will be exposed."
Witney and the Jazz are back in Salt Lake City, Utah, now preparing for Friday's Game 3, with the series tied, 1-1.
A reserve 7-footer who only appeared in 51 games during his recently completed fourth NBA regular season, Withey has played nine minutes in each of the playoff games, with Jazz starting center Rudy Gobert out due to a knee injury.
Utah coach Quin Snyder told The Salt Lake Tribune Thursday the team is researching the allegations Withey faces.
"We're looking at what the situation is," Snyder said. "It would be irresponsible for me to comment beyond that until we have more information."