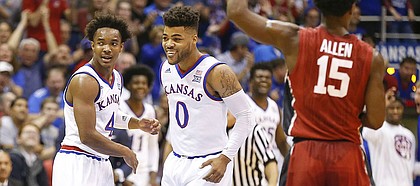 It's now been more than a week since Frank Mason III won last won an award, a long period of time by the recent standard set by Mason, who picked up 10 national player of the year awards, two Big 12 honors and KU's Danny Manning "Mr. Jayhawk" Award all in the span of a few weeks.
While the praise for one of the best seasons by a Kansas player in recent memory has started slowing down, the celebration of Mason's career and the impact he had on his teammates will be everlasting.
And it was not just Mason's ability to score and put the Jayhawks on his back that his teammates will remember. Many of the senior guard's best qualities rubbed off on those he played with, particularly during his stellar senior season.
"He's probably one of the best players I've ever played with, flat out," Josh Jackson said after the season. "Just his toughness, his ability to score at will and just how big of a competitor he was, how much he likes to win, those are probably the biggest things I'll remember. I definitely got some heart from him, got a lot of courage from him and he gave me a lot of confidence as a player throughout the season."
Fellow-freshman Mitch Lightfoot, who did not log as much on-court time with Mason as Jackson did said he saw enough from Mason as a spectator and practice participant to remember his impact for a long time.
"Winner. He'd do whatever it took to win," Lightfoot said. "Great teammate. Leader. All that good stuff. Just cool, calm and collected."
Nobody saw that more often throughout his Kansas career than departing senior Landen Lucas, who was on the KU roster for one season before Mason's arrival and spent the next four years growing and grinding alongside him.
"He was a great competitor, great teammate," Lucas said. "And it's disappointing (the way the season ended) because I wanted it really bad, for him to go out the way he should.... It's gonna be tough early on, but looking back on it I'll definitely be able to appreciate him and playing with him. I spent pretty much my whole career with him as my point guard so that was definitely fun for me and that's something I'll never forget."
That last part is the aspect of Mason's legacy that Kansas coach Bill Self hopes will be the most impactful. Especially early on, with several returning players having seen Mason up close and personal, Self believes fresh thoughts of the work Mason put in can serve as both motivation and a benchmark for those who played with him and are striving to put up similar numbers as their careers progress.
"I don't know if very many can have the inner-confidence that Frank has," Self said. "But as far as putting in the time, absolutely they can. Devonte' can, Svi can, Lagerald. They all are capable of doing that and they're all naturally hard workers.
"There's a difference with Frank, though. He put in the time and he improved his craft, but, as mentally tough as he was, he got so much even tougher and his confidence level was just off the charts. Those are the things, intangible things, that will be hard to emulate. Because that guy gave us our physical presence, he gave us our mental edge, he gave us our personality. He did an awful lot for us."