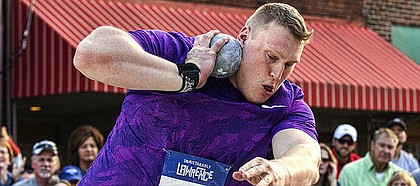 I suspect a weather forecaster is calling for a 55 percent chance of rain Friday afternoon because said forecaster wants to scare people away in order to lay claim to the best vantage point for the always-crowded Downtown Lawrence Olympic Shot Put.
It's happened before, if only on Larry David's "Curb Your Enthusiasm," on which Larry determined a golf-crazed forecaster wanted the golf course to himself and told his viewers heavy rain was a sure thing.
Just in case it's not a phony forecast, Bob Sanner, executive director of Lawrence Sports Corporation, moved the starting time to 4:30 p.m. to improve chances of keeping the event outdoors and not at the backup site, the Douglas Country Fairgrounds.
Here's hoping my favorite Lawrence event stays on Eighth Street.
Every April, spectators line both sides of the street and nearby rooftops to watch and listen to grown men throw a 16-pound ball of iron farther than the distance between the pitching rubber to home plate, sometimes more than 10 feet farther.
Ryan Crouser, gold-medal winner at the 2016 Olympics in Rio, highlights the field and will be making his downtown debut.
"If he comes in top shape, it's going to be tough to beat him," said Tim Nedow, defending downtown champion, by phone from his training facility in Pennsylvania. "He's chasing world records. But I'd still like to beat him. Hopefully, he'll come in and throw great and that will fire me up and I can get a personal best, even if I don't beat him."
Nedow represented Canada in the 2016 Olympics, where he didn't fare well and was hampered by a bad back that since has healed.
"Everybody loves this event," Nedow said. "Guys coming out of college are always trying to get into it. They all hear about the beer tents and live music and interacting with people after the competition. They even talk about the 32-ounce steaks we eat the night before. It's definitely been the coolest experience of my career."
Crouser is on the record as saying he's gunning for eclipsing the meet record of 71-3.75 set by Reese Hoffa in 2012. If the winner of Friday's event breaks that record, he receives a $4,000 bonus. Crouser set the Olympic record with a throw of 73-10.75.
In 2013, a scary forecast sent the event indoors to the fairgrounds.
"It wouldn't bother me to compete indoors, but it's such a cool event downtown and Lawrence puts so much time and effort into making it awesome, it would be too bad," Nedow said. "But I'd still get fired up."