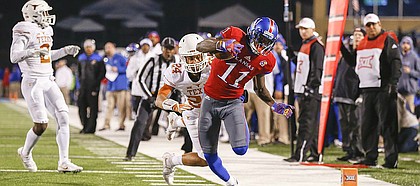 Sure, when Todd Reesing was tougher to catch than the wind, scrambling in every direction and still managing to keep his eyes downfield, spectators flocked to Memorial Stadium to watch him lead Kansas to victory. It became very fashionable to attend games and talk about them all week.
Kansas averaged 50,907 customers a game in Reesing's junior season, 50,581 the year after that.
Last season, KU's eighth consecutive one with a losing record, drew an average crowd of 25,828. Everybody loves a winner and nobody enjoys watching a team that gets drilled on nearly a weekly basis.
But blaming it all on losing is too easy, too lazy. After all, it's not as if Iowa State fools anybody into thinking they're the USC Trojans, even if their uniforms look alike. Yet, the Cyclones draw big crowds to Jack Trice Stadium, named after the school's first African-American athlete, a football player who died during a game against Minnesota in 1923.
ISU averaged 52,557 for its seven home dates last season and with records of 3-9 overall and 2-7 in Big 12 play finished one game better than Kansas. More than twice the fans, so more than simply winning is at play here.
Surely, it's not the weather that keeps fans away because Ames creates deeper, sooner and longer shivers than Lawrence.
It's strange that the same fan base that prides itself on the knowledge and passion it brings to Allen Fieldhouse, tunes out instead of turning out for the football team.
Could it be that the fans who stay away do so because they just don't appreciate the sport of football? Might they find it too rugged, too violent?
I sometimes wonder if there are Kansas fans out there who don't want the football program to become better because if it does they won't have an excuse for staying at home, for not keeping up on personnel changes. You know, way more players to keep track of in football than in basketball.
The easy line repeated by so many who I suspect are relieved that they don't have to keep track of the football team to be able to participate in conversations at social gatherings because all anybody talks about is basketball goes something like this: "I'm tired of the hype. I'm not believing it anymore, unless they start winning. Then I'll pay attention."
In other words, "Show me." That should be their motto, except that it already is taken by a bordering state to which most KU sports observers certainly don't want to be compared.

I sometimes wonder if the KU basketball fan base can be split into two groups.
Group I: Loyal supporters of the team, they get that the team isn't only there to entertain them, but there to be supported by them as well. Barring an unavoidable, conflicting commitment those from this group will be at the spring football game.
Group II: They attend basketball games to be entertained and to be seen and, therefore, feel cheated when the team does not deliver a typical sensational performance about which they can boast in a way that enables them to take partial ownership in the remarkable feats they witnessed. Their need to be associated with success plays a role in their attendance. You won't see them at the spring football game.
The forecast calls for the game to be played with temperatures in the high 70s with a 15 percent chance of rain, conditions favorable to drawing a big crowd.
Still, I don't expect to see many spectators.
Then again, I might be completely wrong and it's conceivable enough KU basketball fans are paying attention to the football team again because they are aware that it's on the verge of a significant forward step and they are aware that:
• Defensive end Dorance Armstrong and defensive tackle Daniel Wise are bona fide All-American candidates;
• Alabama coach Nick Saban had big plans for receiver Daylon Charlot and was disappointed that he transferred to Kansas, and with Steven Sims dropping jaws all spring, Charlot might not even be the No. 1 receiving target.
• Quarterback Peyton Bender impresses everyone who watches him with his quick release and accurate downfield passes, which he used to throw for 566 yards in a game against one of the nation's most talented juco programs.
• First-year offensive coordinator Doug Meacham, a key architect in TCU's transformation from a defensive stalwart that lacked sparkle offensively to a big-time scoring machine, already has sped up the Kansas offense.
Even before running backs Dominic Williams from Independence High in Frisco, Texas, and Octavius Matthews, a teammate of Bender's at Itawamba Community College in MIssissippi, join the team in June, plenty of playmakers capable of lighting up a crowd already are in uniform for Kansas.
If a big crowd doesn't turn out, that just shows a big slice of the Kansas fan base remains in a "show-me" state of mind. Not much anybody can do if they're comfortable with that moniker.