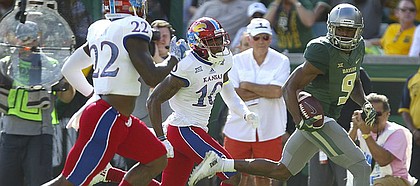 Waco, Tex. — By the time the second half began Saturday afternoon at McLane Stadium, Baylor starting quarterback Seth Russell didn't even need to take the field. The first 30 minutes of the homecoming game provided his 11th-ranked Bears more than enough time to jettison Kansas in what inevitably turned into a 49-7 trouncing.
"You don't want to see that at all," KU senior safety Fish Smithson admitted shortly after BU's six-touchdown halftime lead inspired head coach Jim Grobe to rest Russell and many of the 47,598 in attendance to trickle out of the facility throughout the third quarter.
After the Bears thoroughly sicced the Jayhawks in the first quarter to the tune of a 21-point advantage, their offense briefly slowed down in the second quarter — when BU junior kicker Chris Callahan missed a pair of field goals — before piling on in the final minutes to take a six-touchdown lead into the break, all but deciding the game and extending KU's losing streak away from Lawrence to an eye-popping 41 games.
As if the rout already hadn't been designated as on, the Bears' foray resumed late in the second quarter when they opened a possession with a 59-yard KD Cannon reception and sprint for a touchdown.
Photo Gallery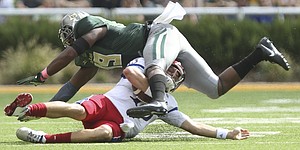 Kansas football v. Baylor
View a gallery of images from Saturday's game between the Jayhawks and Bears in Waco, Texas.
KU gifted the Bears an even easier crack at a one-play scoring drive on the ensuing series, when junior center Joe Gibson's accidental shotgun snap took a bit of a pump-fake before bouncing off of him and onto the turf, where BU sophomore tackle Ira Lewis pounced on it.
The third KU giveaway of the first half, the lost fumble set up a four-yard touchdown run for senior Bears running back Shock Linwood on first-and-goal.
Relatively speaking, Baylor took its time scoring its next touchdown, following Kansas junior Cole Moos' fifth punt of the first half. Russell finished his brief afternoon with an easy four-yard pass to sophomore receiver Ishmael Zamora with less than two minutes to play in the second quarter and Kansas trailed 42-0 before heading to the locker room for a much-needed respite.
"You always want the best shot from your opponent. You always want that," second-year KU head coach David Beaty said regarding Grobe essentially declaring the game won by sitting Russell in the second half. "We don't get to be disheartened. We just don't. We have to deal with the here and now."
The Bears (6-0 overall, 3-0 Big 12) put the Jayhawks (1-5, 0-3) in their place early, winning the opening coin toss, electing to receive and traversing the 75 yards of turf in front of them in 3:05 to take the lead for good. Fittingly, quarterback Russell (212 total yards, two passing touchdowns, two rushing scores) finished the opening-statement possession with a five-yard run to the end zone.
Related document
Box score: Baylor 49, Kansas 7 ( .PDF )
Baylor's lead expanded with the aid of a Ryan Willis throw on the following possession. One play after a successful fourth-down conversion in BU territory via a Willis two-yard sneak, the sophomore QB looked to make a quick throw to the left sideline. However, Baylor senior corner Ryan Reid recognized the KU quarterback's intentions instantly and picked off the throw on the run, continuing his way 64 more yards for a TD.
"We game-planned for the outs," Reid said, "and just certain routes that they run. It changed our whole game plan."
Willis (10-for-19 passing, 89 yards, three interceptions) thought at the time he made a good throw, but said after KU's fifth consecutive defeat Reid made a better break on it.
"I mean, it's a long throw. But we need to complete those. We need to be better as an offense," the QB offered after the Bears out-gained KU 453-217 in total yards. "I need to be better."
BU didn't score on its third offensive possession, when the KU defense came through with a three-and-out following a Moos personal-record punt of 82 yards (aided by the wind at his back and some gracious bounces) that pinned the Bears back on their own three-yard line.
The Bears corrected that glitch, though, and built a 21-0 first-quarter lead on the next series, capped by a 26-yard Russell run, complete with a move to avoid defensive backs Smithson and Marnez Ogletree en route to the gold and green turf beyond the goal line.
Behind its massive offensive line, Baylor put up 246 rushing yards. And though the Bears' 207 passing yards didn't exactly stand out, KU only managed one sack, by sophomore defensive end Dorance Armstrong in the third quarter.
Senior linebacker Courtney Arnick said the Bears' offense featured great athletes at every position.
"Their O-line was very physical and they came out here and competed," Arnick said. "Now we've just gotta get back in the lab and prepare for next week."
Backup BU quarterback Zach Smith led another Bears scoring drive before Kansas finally erased the zero next to its name on the scoreboard. By then, Willis watched from the bench, with the game completely out of hand.
Redshirt freshman QB Carter Stanley took over with 6:11 left in the third. But Beaty's offense mostly relied on true freshman running back Khalil Herbert on the series. Stanley connected with sophomore receiver Steven Sims Jr. for a 34-yard pickup and only threw the ball on two other plays, both incompletions. Herbert, meanwhile, rushed for 27 yards on six carries, including a two-yard touchdown that made the score 49-7.
"Baylor, their defense, they came prepared to play today," Sims said. "They executed well all day long. That's really all I can say."
KU finished the loss with only 134 passing yards and 83 rushing yards. Beaty said the Jayhawks have to improve offensively.
"We made some strides last week and then today we took several steps back," the coach said. "That's my responsibility. I'm the one that has to manage that and make sure we're productive on that side of the ball. And it didn't happen today. Those kids, they're gonna continue to listen and continue to learn, but we've gotta continue to provide them with great leadership and that's my responsibility."
Kansas returns to Lawrence next week to face Oklahoma State at 11 a.m. at Memorial Stadium.
— See what people were saying about KU's matchup against Baylor during KUsports.com's live coverage.
---
More news and notes from the loss against Baylor
---