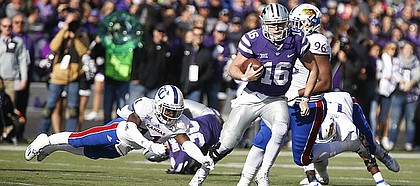 Manhattan — When David Beaty looks back on the final Saturday of his second season as Kansas football coach, he will find it difficult to ignore a bumpy first-half stretch that sent his underdog Jayhawks into constant comeback mode for the remainder of the Sunflower Showdown.
Coming off the program's most significant victory in two years a week earlier, KU couldn't afford any slip-ups on the road against rival Kansas State. Turnovers on back-to-back possessions early in the second quarter provided the Wildcats all the buffer they needed at Bill Snyder Family Stadium, where Kansas fell, 34-19, marking the program's 44th consecutive defeat outside of Lawrence.
Following a competitive first quarter in front of 52,637, which even featured a brief 3-0 KU lead, heavily favored K-State began to open things up. Junior quarterback Jesse Ertz took off for a long run — a recurring theme in the first half — to flip the field on the second play of the second quarter. One snap later, redshirt freshman running back Alex Barnes (10 carries, 103 yards, one touchdown) hit a hole on the right side at top speed and went on to leap into the end zone for a 31-yard score.
Photo Gallery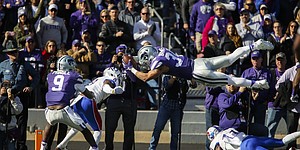 Kansas football at Kansas State
View a gallery of images from Saturday's game between the Jayhawks and Wildcats in Manhattan.
The contest really escaped KU's reach two plays later, though, when redshirt freshman quarterback Carter Stanley stared down a sideline pass intended for junior LaQuvionte Gonzalez. K-State senior Donnie Starks saw where Stanley was looking as well as anyone, and promptly picked the throw out of the air for a 39-yard touchdown return that allowed K-State's lead to grow to 20-3 less than a minute after the Wildcats' previous score.
Beaty said KSU (7-4 overall, 5-3 Big 12) clouded the boundary to defend that particular hitch route.
"I don't think Carter saw (Starks') feet, and we kind of know when they're moving between coverages. His feet were tellin' us that," Beaty said of what the young quarterback should've noticed. "As he popped his hips, he never even saw him."
Senior running back Ke'aun Kinner, who praised Stanley (24-for-44 passing, 302 yards, two touchdowns, two interceptions) for his toughness in a loss that featured plenty of Wildcat hits on the QB, said it was the kind of play the Jayhawks (2-10, 1-8) became all too familiar with in 2016. KU lost 36 turnovers on the season.
"Those mistakes can't happen," Kinner said. "Sometimes it's gonna happen, but it's been definitely killin' us."
Related document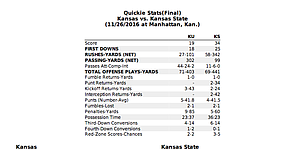 Further stymieing KU's chances at any momentum, its next possession ended four plays later, when senior KSU defensive tackle Craig Settles batted a Stanley throw skyward, and linebacker Elijah Lee positioned himself under the ball, as if returning a punt, for another interception. K-State didn't score off its second of three takeaways, but it kept the visitors' offense in a stagnant state. In the second quarter, Kansas only gained 1.9 yards per play while turning the ball over twice and punting it away on two other occasions. The half ended with Stanley heaving a Hail Mary, which fell incomplete, into the end zone.
Said Beaty: "That second quarter was obviously frustrating. I thought we did a lot of things to ourself — both sides of the ball, which was not good. But along those same lines I saw our guys continue to stand up and continue to fight and move forward and get back into that game in the second half, which is exactly what we want to do."
The KU offense finally experienced a flash of life in the third quarter after going eight consecutive possessions without a score. Backed up against its own goal line following Nick Walsh's third punt of the afternoon, Beaty dialed up a Stanley deep ball for Gonzalez (five catches, 127 yards), and the junior receiver raced the other way for a 95-yard score — the third-longest reception in program history.
"He was a tough dude, man," Beaty said of Stanley, who suffered four sacks and numerous other blows on runs and incomplete passes, but went 13-for-22 in the second half for 213 yards and a pair of scores. Stanley's finish helped KU gain 276 of its 403 yards after the break. "He kept gettin' up off the floor and he got hit in a bunch of different ways today. I think our team really drew to him today. They really did. He made some mistakes early — one was not a good one. But he kept playin' man, and he was never rattled, which is something that you want in your quarterback."
K-State out-gained its rival 441-403 in total yardage on the day thanks to 342 yards on the ground, with the help of nine different rushers. Sophomore KU defensive end Dorance Armstrong Jr. (six total tackles, three for loss) said the Wildcats proved more tricky to scheme for and defend than other opponents. Ertz (12 carries, 99 yards) sitting in the second half for precautionary reasons only complicated matters.
"On film you don't see those quarterbacks that came in late in the game," Armstrong said of Joe Hubener and Alex Delton. "You don't know how they play and what they do, so I just feel like you've got to go with the flow."
Despite K-State's Hubener opening the fourth quarter with a one-yard rushing touchdown, a development that had the potential to ensure the Jayhawks didn't gain any false confidence for the final quarter, they had one of their best offensive stretches with the end of the season bolting toward them.
Still, over the final 15 minutes, KU won 176-60 in yardage and senior kicker Matt Wyman recovered an onside kick. Senior Kansas safety Fish Smithson, who recorded a game-high 11 total tackles, liked the way his team finished a challenging season.
"At the beginning of the game, they were kind of just running it down us. Too many mistakes, I know I had too many. After we kinda settled down," Smithson said, "… we started playing well."
Added Sims, who finished his standout sophomore season with five catches and 41 yards: "Coach Beaty makes us fight hard 'til the end of the game, no matter what, no matter what the scoreboard says. That just display the type of players we have on the team. We're gonna fight 'til the end."
Kansas outscored the Wildcats 10-7 in the fourth, but saw the final series of the season end when Trey Dishon sacked Stanley to force a fumble recovered by Charmeachealle Moore with just more than two minutes to play.
That's not the turnover Beaty will replay in his mind from the fourth quarter, though. He'll instead recall senior linebacker Courtney Arnick forcing a fumble in his final game and junior lineman Kellen Ash falling on the ball for KU in the final minutes of a contest the players could've quit on much earlier.
"For me it's a good sign for where our program's heading that those guys continue to play hard and continue to believe," Beaty said with his team headed into the offseason.
— See what people were saying about the game during KUsports.com's live coverage.
---
More news and notes from Kansas vs. Kansas State
---