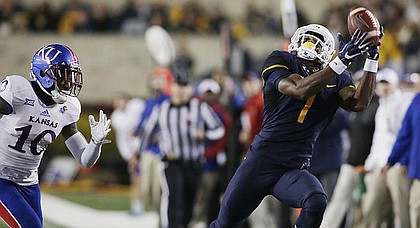 Morgantown, W.Va. — Once again visiting another Big 12 program's stadium as a massive underdog, the Kansas football team needed plenty to go its way at Milan Puskar Stadium Saturday night against West Virginia. The last thing the Jayhawks could afford was another substantial first-half deficit or a sub-par performance from its defense.
Those very factors, though, flattened the Jayhawks' chances of competing with the No. 14 Mountaineers in a 48-21 thumping that extended the program's losing streak in true road games to 40.
KU fancies its defense as its strength, but its D-line and linebackers allowed WVU (7-1 overall, 4-1 Big 12) to take over early with its rushing attack. Running backs Justin Crawford (129 yards, one touchdown) and Kennedy McKoy (127 yards), as well as quarterback Skyler Howard (64 rushing yards, two running scores), led the offense to 341 yards rushing in the romp.
"We didn't do a very good job up front in the run game," KU head coach David Beaty said afterward. "I thought they got lots of chunks on the ground, and for a team that's been playing well up front from a TFL (tackles for loss) standpoint, I didn't think that we played near as good today."
Related document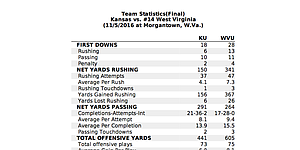 The Kansas defense finished with eight tackles behind the line of scrimmage, but sophomore defensive end Dorance Armstrong Jr. (two TFL's) said the frontline defenders failed KU (1-8, 0-6).
"I don't think we played as physical as we usually do. I think we got knocked off the ball," Armstrong said. "We had a lot of missed assignments, guys not running the plays we were supposed to. It just wasn't our game today."
When KU redshirt freshman safety Shaquille Richmond took down WVU freshman running back McKoy for a loss on fourth-and-goal early in the second quarter, it forced the Mountaineers to leave the field following an 11-play, 93-yard drive with nothing to show for it and Kansas only trailed 10-0. The clutch tackle for loss came four plays after KU safety Mike Lee, a true freshman, knocked Howard out of the air when the QB tried to hurdle Lee and launch himself into the end zone.
Per usual, though, the early defensive highlights ultimately meant little for KU's big picture on the road, this time in front of a crowd of 56,343.
Not only did the Jayhawks' offense fail to capitalize on the momentum, going three-and-out deep in their own territory — "We needed to be able to get a first down and get out of there, and we couldn't do it," Beaty said — but the Kansas defense relinquished big plays on each of the next three WVU possessions, all of which ended with a touchdown.
Howard capped a 1:33 scoring drive with a 33-yard touchdown rush after being denied by Lee on the previous series. Next, a 37-yard third-down rush by Justin Crawford and a pass interference penalty against KU cornerback Marnez Ogletree keyed a seven-play TD drive.
By the time Howard (260 passing yards, three touchdowns) hit Shelton Gibson for a 19-yard TD in the final minute of the second quarter, West Virginia had provided itself with a 31-0 cushion entering halftime.
KU senior safety Tevin Shaw said WVU gashed the defense with its rushing and the Jayhawks should've built off their goal-line stand when it was a 10-0 game.
"We didn't really keep going in a good direction," Shaw said. "I'm not sure really what stopped us."
Shut out in the first half, the Kansas offense finally scored in the third quarter and had the defense to thank. Following a forced fumble by Armstrong and a Courtney Arnick recovery at WVU's 29-yard line, Beaty called five straight carries for running back Ke'aun Kinner and the senior accounted for every yard on the possession, as well as the touchdown.
It marked KU's first TD in two weeks, dating back to an Oct. 22 home loss to Oklahoma State, ending a streak of seven touchdown-less quarters for the offense.
Still, the rare road score only cut the Mountaineers' lead to 38-7, and the home team answered with back-to-back touchdown drives.
KU's 28th lost turnover of the season arrived on its first offensive possession at WVU. On third-and-23, starter Montell Cozart (11-for-24, 124 yards passing), who left the game in the third quarter with concussion symptoms, looked for freshman receiver Evan Fairs near the right sideline. But Fairs kept running past the spot where Cozart threw, and WVU senior corner Rasul Douglas benefited with an easy interception near midfield.
Although the Jayhawks managed to spend the next 48 minutes of game clock without giving the ball away again (Carter Stanley threw an interception into the end zone looking for LaQuvionte Gonzalez late in the fourth quarter), their offense only produced 18 first downs and 441 yards, nowhere near enough to put a scare in the Mountaineers, who held a 549-271 advantage in total yardage entering the fourth and finished the blowout with 28 first downs and 605 yards.
Beaty also left West Virginia disappointed in KU's 104 penalty yards.
"Self-inflicted wounds," he said, "is a big thing."
KU returns home next week to play host to Iowa State.
— See what people were saying about KU's matchup against West Virginia during KUsports.com's live coverage.
---
More news and notes from the loss at West Virginia
---