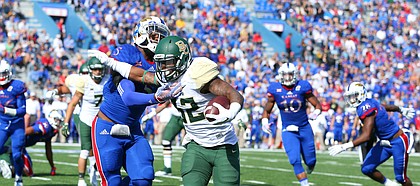 Big 12 expansion talk runs hot so it's time for us all to board the plane to Fantasy Island, time for Herve Villechaize to come back from the dead to greet us, time for us to talk about what to wear for the wedding between the Big Ten and Kansas.
For many reasons, the Big Ten certainly would make for a nice landing spot for Kansas in the event the Big 12 either blows up or dilutes itself with expansion to the point undesirables are welcome. For one thing, the Big Ten is flush with cash, in part because of a hugely successful TV network.
In the event KU can upgrade its football program so that respectability is within view with a high-powered telescope, more potential victories exist in the Big Ten than the Big 12. Indiana, Illinois, Maryland, Purdue and Rutgers all had losing records last season. None of those schools is an established football power. (Northwestern will remain a tough out as long as proud alumnus Pat Fitzgerald stays on the job, which figures to be a long, long time).
At the moment, KU's out-of-state recruiting ties stretch south to Texas and Louisiana, not north to Ohio and Michigan, but TV networks have a way of changing recruiting opportunities for schools.
One problem with fantasizing about joining the Big Ten: The conference never has shown any interest in welcoming Kansas and nothing suggests that ever will change.
Sure, Kansas basketball would improve an already loaded league, but football revenue drives these decisions, not basketball power.
The Big Ten not only shares a portion of TV revenue and roughly a third of home gates as well. Kansas plays in a stadium with a 50,071 capacity, which is smaller than any Big Ten stadium with the exception of Northwestern's Ryan Field (49,256). Northwestern more than compensates by being partially responsible for bringing the massive Chicago TV market to the conference.
Michigan's The Big House (107,601), Penn State's Beaver Stadium (106,572), and Ohio State's The Horseshoe (104,944) have more than twice KU's capacity. Nebraska's Memorial Stadium (90,000), Wisconsin's Camp Randall Stadium (80,321), Michigan State's Spartan Stadium (75,005) and Iowa's Kinnick Stadium (70,585) also dwarf KU's aging home with a beautiful view.
The Big Ten can afford to be picky and can wait for, say, Texas, which plays in Darrell K. Royal Stadium (100,119). If the Longhorn Network collapses before the contract between UT and ESPN expires in 2031, the Big Ten rolls out the welcome mat.