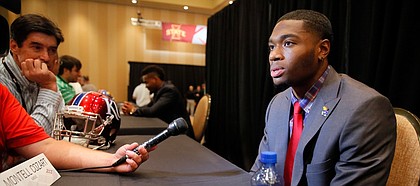 Dallas — Monday afternoon at a ballroom in the Omni Hotel in downtown Dallas, the Kansas University football program played the role of the bearded lady.
A novelty act. The car wreck on the side of the highway that you just have to slow down to see. A unicorn, but with a mangy mane and dirty coat.
Becoming the first team in Big 12 football history to go through a season without experiencing victory — and just the second in KU's 125-year history — has a way of attracting those who might otherwise be inclined to ignore you.
And, believe it or not, there was a strong and consistent horde of media members hovering around the Kansas football players during the breakout sessions at Big 12 Media Days this week.
So there they sat, senior safety Fish Smithson, junior quarterback Montell Cozart and junior linebacker Joe Dineen, peppered with questions for a little more than 90 minutes. With almost every fresh face that popped up in front of them, one inevitable question came with it: What did it feel like to go winless?
Their answers came with ease and were a mix of equal parts honesty and indignation. And there were a few words uttered that nobody expected to hear.
"Going 0-12 sucks," Dineen said. "But we really did have a lot of fun last year."
Fun, at that point, became a relative thing. And Dineen was talking more about the joys that came from pride, development and toughness than first downs and final scores.
Fun or not, though, that winless season stuck with these Jayhawks, and they, along with their 2016 teammates, are banking on its painful and still somewhat fresh stench carrying them to better days this season and beyond.
"Winless? It cringes you," Cozart said. "It's really tough. I haven't experienced something like that. Even my (previous) years here at KU, we didn't have the best record, but we won games. Coming from high school, where we were competing to win state championships, was really tough. But I've been able to experience both sides now, and that's helped me grow as a person and as a player as well."
Players and programs grow every year. The ones that grow fast win bigger, and those that change slowly lag behind. But the growth the Jayhawks experienced a season ago does not pop up every year at every school. All of the losing is painful. It stings. It gets old. And, in many ways, in begins to define you.
"Most guys on the team come from winning programs," Dineen said. "So when you don't win like you're used to, it's a shock. But I think our team has fought through and rebounded. We haven't quit at all, and it's all moving forward and getting better."
A big reason for that is that all of that losing can bring a team together as well. Dineen and Smithson both indicated that this year's roster seemed tighter than any they could remember. And Smithson said that unity can help bring the team closer to its fans, too.
A week ago, when Smithson was on vacation in Las Vegas, a man who noticed Smithson's KU football T-shirt approached him and asked him if he played for the Jayhawks. Proudly, Smithson said yes, and the man's response both surprised him and made him smile.
"Cool guy," Smithson began. "He just told me, 'Keep up the good work,' they're proud of me and Jayhawk Nation supports us. That was real nice to hear. Because that was the tough part about the season, just how much we let down our fans."
At this point, it won't take bowl-eligibility to win the fans back. But the Jayhawks will have to show significant progress and become consistently competitive. While none of them ever would have asked for it to arise, Dineen said the constant reminders of that winless season did wonders for team chemistry and this group's mindset.

"I think we're a lot closer," Dineen said. "We all are going towards a common goal and that's big. We all want to win and that's keeping us together. It's all coach Beaty and the staff. They do not allow you to get down at all. The motivation to play for those guys, the energy they bring to every practice, it's crazy ... He makes college football a lot more fun than it probably is at other places."