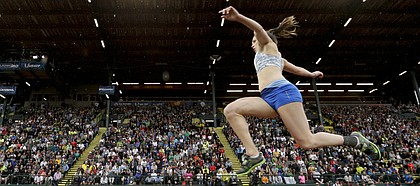 NBC has done a nice job through decades of Olympic coverage at shining a light on athletes overcoming odds, turning obstacles into opportunities, tears of agony into joyful sobs.
NBC, meet Andrea Geubelle, one of three women representing the United States in the triple jump in the Games of the XXXI Olympiad in Rio de Janeiro, Brazil.
Charismatic, telegenic and fueled by an indomitable spirit, Geubelle, 25, is one TV producer's decision away from lighting up televisions across the world with her smile.
And there was a time not so long ago that her Olympic dreams seemed to her to have vanished in the wake of a series of tough breaks.
Ever a relentless force of power and speed, confidence and competitive fire, the former Kansas University triple jumper missed that person when a serious knee injury sapped her of all those championship qualities.
"My boyfriend and my parents could tell you there were times I broke down and told them, 'This isn't for me anymore. There is no way I can make it back to where I was.' But every time I had one of those conversations, I missed the sport," said Geubelle, a native of suburban Tacoma, Wash., where she now trains.
Whether she knows it or not, she also missed the upbeat, bad-to-the-bone competitor who had become the best college triple-jumper in the nation. She missed herself.
Geubelle has a rich history of turning negative developments into motivational fuel. She won the NCAA outdoor triple-jump title in 2012 and some 20 minutes later, when a few of us were interviewing her, feeling the joy of her smile, she was called away by a meet official and told that an opposing coach had protested that her winning jump was a foul. With that bit of news she went from first to third faster than Kansas City Royals September pinch-runner Terrance Gore ever has.
Her smile turned to sobs born of shock and she had to try to make sense of an after-the-fact ruling that prevented her from using her final jumps to get to first, instead of risking fouls and using them to better her mark.
That same year, Geubelle had to live with the disappointment of missing the Olympic qualifying standard by one centimeter. That's less than half an inch, about half the size of the diameter of a dime.
Instead of hanging her head in woe-is-me fashion, Geubelle let the experiences empower her to longer distances. She won her second consecutive indoor NCAA title in 2013 and won the USA outdoor championship in 2013.
"It definitely pushed me more in 2012," she said. "I will be the first to admit coming back from an injury, I was pretty down. I had the least confidence I ever had, lost my competitive drive."
A torn patellar tendon of the right knee prevented Geubelle from training for the triple jump for a year and competing in the event to which she returned in January for 18 months.
She made her way back by deciding to stop focusing on what she was as a jumper and what was at stake — a chance to perform on athletics' ultimate world stage — and lived in the here and now, turning everything into a small step that must be conquered.
"Small things, like jumping on a foot-high box, became a big thing for me," said Geubelle, who before the injury had a vertical leap measured at 32 inches.
She decided not to have surgery and underwent prolotherapy — an alternative-medicine treatment that involves injections and painful physical therapy. To this day, she said, the muscles around the kneecap have not regained full strength, a reality that necessitated Geubelle altering her style.
"I could no longer be a power jumper, so I started really working on my speed," Geubelle said. "I'm definitely the fastest I've ever been. I changed a lot of my technique to be faster, so I'm jumping through speed and not through my knees. It doesn't look as pretty, but it's really quick, a lot less impact on my knees. When it gets pretty, it's going to be really far."
She said that will be when she regains her power and maintains her speed, as soon as next year.
After finishing third at the Olympic trials in Eugene, Ore., Geubelle ran into legendary Kansas miler Jim Ryun and enjoyed chatting with him.
Geubelle expressed gratitude for support from her family, coaches, friends and boyfriend Trey Norris, whom she met at the wedding of former Lawrence High, University of Oregon and KU standout athlete Scott Penny.
They helped her out of the depths of despair athletes encounter when injuries temporarily diminish them. During her time away from competing, she became a substitute teacher and not only taught but learned from the students.
"I was doing motivational speaking and started listening to what I was telling these kids," Geubelle said. "And I asked myself: 'Am I even doing what I'm telling them to do?' At points I was super negative and not confident. Then I turned every practice into a competition."
Next stop: Rio.