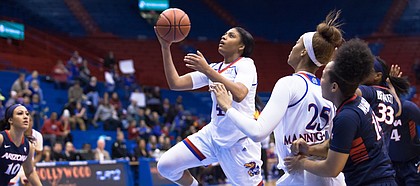 Who: Kansas vs. UC Riverside
When: 7 p.m. today
Where: Allen Fieldhouse
Series: Kansas leads 2-0
Shooting
Through its first eight games, Kansas only shot better than 40 percent from the field once, and less than 35 percent four times. Coach Brandon Schneider lamented the Jayhawks' ball movement and patience on offense early in the season, but both of those have been a big factor for their improved shooting as of late. In their last two games, the Jayhawks have shot 41 and 47 percent from the field. They've won all three games in which they shot better than 40 percent from the field this season.
Rebounding
The Jayhawks have been a strong rebounding team all season, ranking 23rd in the nation with 44.6 rebounds per game. They're also outrebounding opponents by an average of two rebounds per game this season. But over the last three games, they've outrebounded opponents by 13.3 rebounds per game. Kansas had its best performance of the season in both defensive and offensive rebounding over the last two games, with 40 defensive rebounds against Arizona, and 23 offensive rebounds against Rhode Island.
Streaking
After shooting 26 percent from the field in her first six games, Jessica Washington lost her starting spot when Kansas took on Harvard. But Schneider inserted Washington back into the starting lineup against Rhode Island, and she responded with her two best games of the season. Over the last two games, Washington is averaging 16.5 points, 4.7 rebounds and 4.0 assists on 48 percent shooting. After a somewhat disappointing start to the season given the expectations surrounding Washington, she's starting to assert herself as the Jayhawks' top player.
Slumping
Junior Chayla Cheadle has still put up decent numbers as of late, but her efficiency has taken a major hit. She's averaging 6.3 points, 5.7 rebounds and 2.3 turnovers per game on 28 percent shooting over the last three games. On the contrary, in her previous three games, she averaged 11 points, 6.7 rebounds and 3.0 turnovers per game on 50 percent shooting. Cheadle can make the surging Kansas backcourt even more dangerous if she's able to find her shooting stroke again.
Probable starters
Kansas (5-5 overall)
G — Jessica Washington, 5-8, jr.
G — Timeka O'Neal, 5-4, sr.
G — Kylee Kopatich, 5-10, so.
G — Chayla Cheadle, 6-0, jr.
F — Sydney Umeri, 6-0, sr.
UC Riverside (5-4 overall)
G —Lauren Holt, 5-10, jr.
G — Clemence Lefebvre 6-0, jr.
F — Malou De Kergret, 5-11, so.
F — Rejane Verin, 6-1, sr.
F — Skyler Lewis, 6-1, fr.