Photo Gallery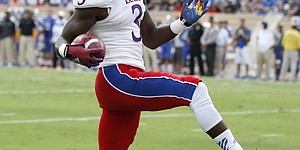 Kansas football v. Duke
Images from Saturday's game between the Jayhawks and Blue Devils in Durham, North Carolina.
KEEGAN RATINGS
Podcast
Spodcasters
KU coach Charlie Weis following team's latest blowout loss
Game Balls
Cornerback JaCorey Shepherd did an outstanding job against productive receiver Jamison Crowder, who caught just two passes for 14 yards.
Middle linebacker Ben Heeney led Kansas with 15 tackles.
Gassers
Montell Cozart bypassed running opportunities and didn't look at open receivers on his way to a day in which he completed 11 of 27 passes for 89 yards and two interceptions.
Antnony "Fish" Smithson was flagged for a personal foul for a horse collar on a receiver JaCorey Shepherd already had wrapped up.