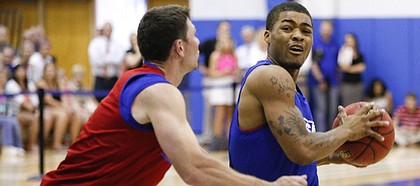 An onlooker who watched Tyrel Reed hit seven threes in a pair of Bill Self campers games in successive weeks wondered where the former Kansas University shooting guard would be playing basketball next season.
"I'm done. I'm in school full time. It's pretty much all I do. I play twice a year now," the 24-year-old Burlington native said.
"It's nice to know I still have it," Reed added. "I go out and play and have fun. I'm healthy. That's the big thing. It feels great to go out and play and not be in pain."
Reed — who is KU's winningest player of all time (132 victories against 17 losses from 2008-11) — played professional basketball in Belgium in 2011-12. Hobbled by a foot injury, he returned to the U.S. well before the end of the season, deciding he'd enroll in the physical-therapy program at KU Med.
"I've got two more years of physical therapy school — my doctorate at KU Med," Reed said. "I love to work with athletes. I love the area, love Lawrence. I'd love to be at KU helping athletes or open my own place around here. I love the community. Everyone is so nice. We'll see what happens."
Reed said he misses "the locker room, being around my teammates, the atmosphere playing in Allen Fieldhouse, the fans. It makes you miss basketball," Reed said. "When I get in these (campers) games, you wonder and miss it a lot more."
He is a big fan of KU's incoming six-man freshman class.
"There are a lot of good freshmen," he said.
The Jayhawks also have added transfers Tarik Black (Memphis) and Hunter Mickelson (Arkansas).
"The sheer numbers and talent one through 13, 14 ... they are stacked," he added of the 2013-14 KU team. "I don't think there's a better guy in the country that can work with talent like coach (Bill Self). I think it'll be a fun season."
Asked about individuals, Reed said: "I was talking to our trainer, Bill Cowgill. You can tell Tarik has played four years of basketball. He's just a rough guy. He knows how to play. He's going to be big for this team. It's awesome they got that addition at the end (of recruiting period).
"Frank (Mason) looks great. Conner (Frankamp) can shoot it. He didn't hit shots today (Wednesday), but he shot it great last week (four threes in camp game). Brannen Greene can shoot. It's loaded. I don't even know what to say. I was at KU, and we had some good freshman classes coming in. This is a little bit different. It's pretty crazy."
Of Andrew Wiggins, Reed noted: "He lets the game come to him. I was impressed by his maturity. He shows you how much a freak he is with the first play of the game (one-handed slam). It's going to be a special year."
Wiggins, a 6-foot-7 freshman from Toronto, scored seven points off 3-of-7 shooting in Wednesday's camp game. Former KU defensive stopper Brady Morningstar did a good job guarding Wiggins.
"I don't know if he wanted to (guard him) or not. I guarantee you Brady wouldn't back down," Reed said. "Brady loves to guard their best player. He did OK on him. He did OK."
Recruiting: Cliff Alexander, a 6-8, 240-pound senior power forward from Chicago's Curie High, was on campus Friday on an unofficial recruiting visit. He will visit Illinois today. His Curie High team is not participating in KU's Team Camp this weekend. Alexander, the No. 5-rated player in the Class of 2014, on Friday tweeted his list of KU, Michigan State, Kentucky, Illinois, Louisville, DePaul, Indiana, Memphis, Baylor and Arizona. ... Jayson Tatum, a 6-6 sophomore point guard from St. Louis is on campus for team camp with his Chaminade High squad. He's considering KU, Illinois, Kentucky, Missouri and others. ... Malik Newman, a 6-3 junior point guard from Callaway High School in Jackson, Miss, received a scholarship offer from KU on Monday, jayhawkslant.com reports. The No. 3-ranked player in the Class of 2015 also has offers from Baylor, Georgetown, LSU, Memphis, Mississippi, Mississippi State, N.C. State, Southern Miss and others,
Blackstock in news again: The NCAA is looking into North Carolina guard P.J. Hairston's connection with NBA agent Rodney Blackstock, Big Lead Sports reported on Friday. An NCAA investigator met with a UNC compliance officer this week regarding the relationship between Hairston and Blackstock, who played at UNC-Greensboro, thebiglead.com reports. Blackstock is the person who allegedly paid Ben McLemore's AAU coach (Darius Cobb) $10,000 as well as travel expenses to Los Angeles for fact-finding missions with sports agents who wanted to represent McLemore. In early June, Hairston was arrested in Durham when marijuana was found in the car he was driving, and a gun was found outside the car. The car was a 2013 GMC Yukon. Neither the rental agency or the police will disclose the name of the renter to thebiglead.com. The NCAA, per policy, has no comment.