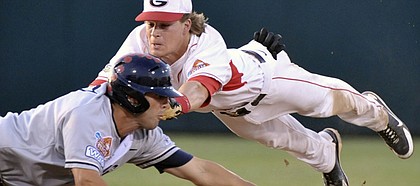 Omaha, Neb. — Gordon Beckham's teammates had given him a hard time for a week because he hadn't hit the home run that would make him Georgia's career leader.
"Tonight," he said, "was a pretty good time to do it."
Yes, it was.
Beckham's two-run shot to left-center started a four-run eighth inning that brought Georgia from three runs down to defeat Fresno State, 7-6, in Game 1 of the College World Series finals Monday night.
Matt Cerione and Joey Lewis followed with consecutive doubles for the tying and go-ahead runs, and then All-America closer Joshua Fields pitched a 1-2-3 ninth to finish off Fresno State.
Georgia (45-23-1) now stands one victory from a second national championship to go with the one it won in 1990. Fresno State (45-31), 4-0 in elimination games in the NCAA Tournament, will try to keep its improbable postseason run alive when the teams meet in Game 2 tonight.
"We're a loose ballclub," Fresno State third baseman Tommy Mendonca said. "We can't play tense and tight. That's when errors and mental mistakes come. We can't be all angry about every little thing. It's baseball. You're going to fail. We just have to be calm, be loose, be easy."
Fresno State appeared to take control in the top of the eighth when it scored three runs to go up, 6-3, against Alex McRee and two other relievers.
But Georgia, which had rallied in the seventh inning or later to win its first two CWS games, wasn't finished.
"We never think we're out of it," Beckham said. "We showed it tonight."
Beckham, the eighth overall pick of the draft by the Chicago White Sox, hadn't homered since hitting two in Georgia's super-regional-clinching victory over North Carolina State on June 8.